Don't miss these popular Taiwan instant noodles when you take your next Taipei trip! Leave some space in your luggage for these delicious instant noodles.
Taiwan is renowned for its food scene – from acclaimed restaurants to world famous street eats, it's a foodie's paradise indeed, especially in its capital city of Taipei. Did you know? Apart from freshly made food, Taiwan instant noodles are also highly sought-after, with countless of e-commerce and daigou listings online.
Taipei Supermarket Haul Series:
• 9 Taiwan Instant Noodles You Must Buy in Taipei 🍜
• 15 Taiwan Snacks Your Tour Guide Won't Show You 🍭
• 18 Taiwan Canned Food You Need to Buy Home 🐟
So on your next trip to Taipei, remember to have extra luggage space to bring some instant noodles home! Here's 9 delicious Taiwan instant noodles you must buy when holidaying in Taipei:
1. Tong Yi Mian (Tong-I Noodle)
Tong Yi Mian, or Tong-I Noodle, was first introduced in 1970 and has remained the OG of all Taiwan instant noodles. Owned by Taiwanese food conglomerate Uni-President Enterprises Corporation, Tong-I Noodle comes in 3 flavours: Braised Pork, Fresh Shrimp, and Bak Kut Teh.
Price: ~ S$0.70 (NT$16) per pack
2. Ke Xue Mian (Science Noodles)
Ke Xue Mian, or Science Noodles, does not need any cooking. Add the included seasoning while crushing the noodles and eat it as a snack right out of the pack. Also marketed by Uni-President Enterprises Corporation, Science Noodles have been around since 1970s!
Price: ~ S$1.80 (NT$42) per 5 packs
3. Wang Zi Mian (Prince Noodles)
Wang Zi Mian, or Prince Noodles, is touted as the world's first dry instant noodles to be eaten right out of the pack. Years later, Uni-President Enterprises Corporation introduced Science Noodles into the market, and Prince Noodles quickly lost its popularity because Science Noodles had more noodle quantity in a pack. Nonetheless, Prince Noodles remain as a common Taiwan instant noodle choice for hotpots and braised dishes today.
Price: ~ S$1.60 (NT$35) per 5 packs
4. Ah Q Tong Mian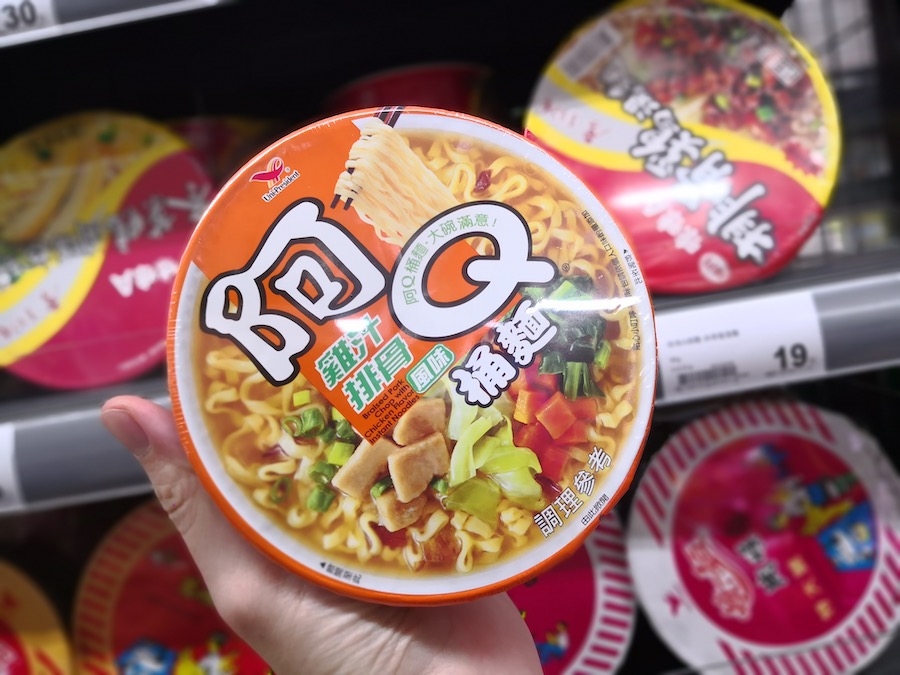 Ah Q Tong Mian, or Ah Q Instant Noodles, is a famous instant noodle brand from Uni-President Enterprises Corporation. Ah Q Tong Mian's flat and broad noodles are popular among locals and travellers alike, and they come in three flavours – Chicken & Pork Ribs, Seafood, and Kimchi.
Price: ~ S$1.30 (NT$30) per bowl
5. Man Han Da Can
By now you should realise that Uni-President Enterprises Corporation really has the Taiwan instant noodle game on lock. 😂 Man Han Da Can also has flat and broad noodles, but it's for beef lovers looking for traditional flavours likes Beef, Chilli Beef, and Super Hot Pot Beef.
Price: ~ S$2 (NT$46) per bowl
6. Wei Lih Men
Another Taiwanese favourite is none other than Wei Lih Men! One pack of Wei Lih Men offers two variation of noodles – soup and dry. After cooking the instant noodles, you can either have them in soup or simply toss the dry noodles in garlicky soybean paste!
Price: ~ S$3.40 (NT$77) per 5 packs
7. Shui Yuan Vegetarian
Vegetarians rejoice! Shui Yuan Vegetarian instant noodles are one of the most popular meatless Taiwan instant noodles. Shui Yuan Vegetarian offers Korean Kimchee, Spicy Mushroom, and even a Bak Kut Teh flavour!
Price: ~ S$3.40 (NT$77) per 5 packs
8. Shuang Xiang Pao
We all know the feeling of craving for a second helping of instant noodles, that's why Shuang Xiang Pao boasts DOUBLE SERVINGS of noodles in a bowl. Shuang Xiang Pao has a variety of flavours too – Classic Red Braised Beef, Rich Pork, Volcano Pork Ribs, Hot Spicy Beef, and Garlic Pepper Beef.
Price: ~ S$1.30 (NT$28) per bowl
9. Hua Diao Ji Mian (Hua Diao Wine Chicken Noodles)
No Taiwan instant noodles list is complete without the iconic Hua Diao Ji Mian! Hua Diao wine, also known as Shaoxing wine, is a traditional Chinese cooking wine that's fermented from rice and widely used in Chinese cuisine. This wine broth instant noodle is always sold out in tourist areas, thanks to its unique flavour and real chunks of chicken. So if you spot one, be sure to grab it quick!
Price: ~ S$2 (NT$43) per bowl
Ready for a Taiwan instant noodles haul? Here's a series of handy guides to get you started on a Taipei holiday:
Part #1: Taipei Food Guide – Which Best Restaurants to Eat?
Part #2: Taipei District Guide – Which District to Stay in Taipei?
Part #3: Taiwan Travel Guide – Which Day Trips from Taipei to Take?
Part #4: Taipei Itinerary Guide – 4D3N in Taipei
Also, remember to bring your YouTrip card to utilise YouTrip's Wholesale Exchange Rates for favourable New Taiwan dollar (NTD) currency exchange rates!
Read: Rilakkuma Cafe Review: Taipei Food Guide
Read: CAT.jpg Cafe Review: Taipei Food Guide
Read: Taiwan Pride: My First Taipei LGBTQ+ Pride Experience
Read: T15 Bar Review: Hidden Bar with Whisky & Cocktails
Read: 4 Haunted Hotels in Asia & Their Horror Stories
Enjoy a travel experience with no fees worldwide!