CAT.jpg Cafe, a homely cafe tucked away in Taipei's Chaozhou Street neighbourhood, offers the best sandwiches and a ginger tabby cat that keeps you company!
From acclaimed restaurants to cult favourite street food, Taipei never disappoints with its delicious cuisines. However, many travellers don't realise that Taipei's cafe scene is also equally remarkable! We dropped by a local favourite spot, CAT.jpg Cafe, to experience the local cafe scene. Here's a full review of CAT.jpg Cafe:
If it's your first time to Taipei, you'll need these handy guides:
Part #1: Taipei Food Guide – Which Best Restaurants to Eat?
Part #2: Taipei District Guide – Which District to Stay in Taipei?
Part #3: Taiwan Travel Guide – Which Day Trips from Taipei to Take?
Part #4: Taipei Itinerary Guide – 4D3N in Taipei
Part #5: Taiwan Hotel Promotions List
Ambience in CAT.jpg Cafe
When we looked into CAT.jpg Cafe from the outside and spotted the crowd, we thought we wouldn't stay long because of the potentially noisy ambience. As we pushed open the wooden door with a tinkling bell, we were surprised to only hear soft music playing through the cafe!
Though it was crowded with cafe goers, most were focused on their laptops and small groups were engaged in soft conversations.
Unlike most cafes, CAT.jpg only has two types of seating – bar tables or community tables. And because we spotted a ginger tabby cat on the main bar table, we quickly took our seats there. The main bar table also overlooks the coffee machine and open kitchen!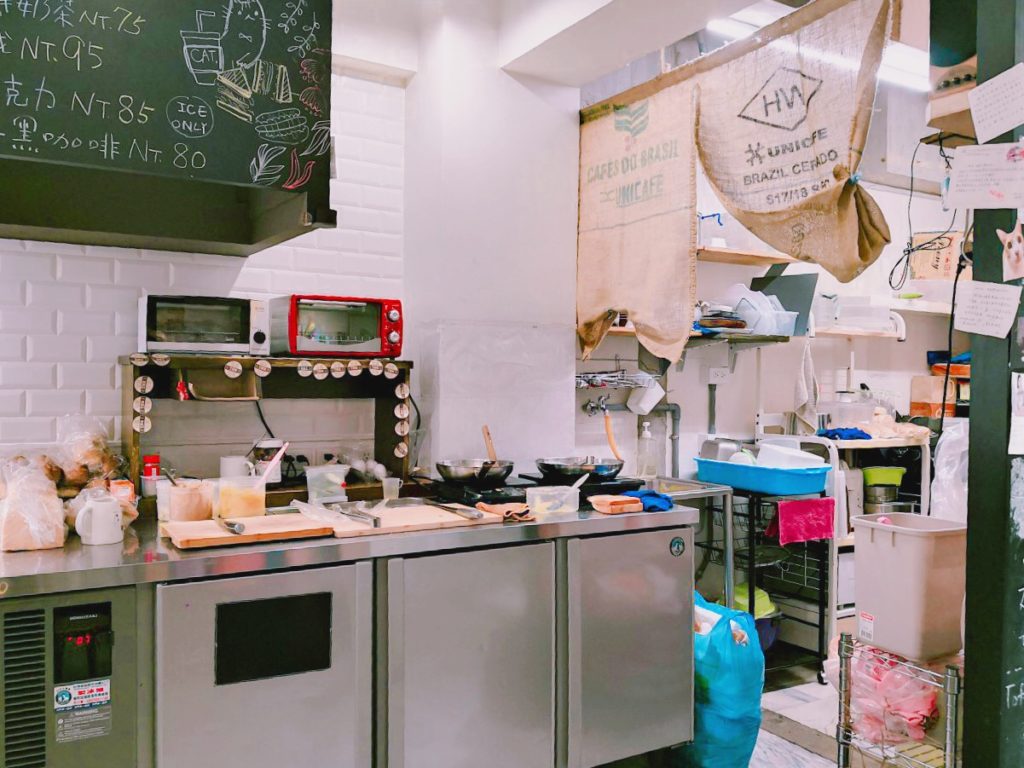 While we were a little disappointed to notice that there was only one cat, the cosy ambience of CAT.jpg cafe was calming and pleasant – it made us feel at home right away.
CAT.jpg Cafe Menu
CAT.jpg offers a variety of beverages: Coffee, tea, smoothies, milk, and even chocolates! There's also a small selection of made-to-order subs and sandwiches, including sweet or savoury toasts.
CAT.jpg Cafe Prices
| | | |
| --- | --- | --- |
| Menu | Price (NTD) | Approx. Price (SGD) |
| Americano | NT$65 | S$2.90 |
| Honey Yuzu Black Coffee | NT$80 | S$3.60 |
| Tropical Oolong Tea | NT$55 | S$2.50 |
| Mango Smoothie | NT$75 | S$3.40 |
| Black Sugar Milk | NT$70 | S$3.10 |
| Peppermint Chocolate | NT$85 | S$3.80 |
| Rosemary Chicken Sub | NT$75 | S$3.40 |
| Black Pepper Chicken Sandwich | NT$80 | S$3.60 |
| Bacon & Eggs Sandwich | NT$85 | S$3.80 |
CAT.jpg Cafe Food Review
We didn't come with high expectations because cat cafes don't usually serve great food, but little did we know we were about to be surprised. After ordering our food, the staff turned to their work stations promptly and started to make our drinks and fry eggs for the sandwiches. Within a few minutes, our first drinks were served!
Served in a white mug, the dense maroon colour of the Tropical Fruit Oolong Tea (NT$55 / S$2.50) looked extra delicious, and a fruity scent rose gradually from the hot porcelain.
The teabag was thoughtfully served in a separate cup because we had the option to refill more hot water for a second cup, or simply just have a takeaway. There's also no sugar in the Tropical Fruit Oolong Tea, so the natural mild sourness worked up our appetite easily.
Tropical Fruit Oolong Tea: 5 / 5
The cold Peppermint Chocolate (NT$85 / S$3.80) was extremely satisfying with its rich, creamy, and intense flavours of cocoa and bitter hints. The refreshing taste of peppermint followed right after, and that kept us going sip after sip.
Peppermint Chocolate: 5 / 5
Our first sandwich – Bacon & Eggs Sandwich (NT$85 / S$3.80) was promptly served. As we unwrapped the sandwich, the mouth-watering fragrance of eggs, cheese, and bacon escaped the brown paper.
The generous portion of bacons and an omelette with semi-runny yolk looked promising! One bite into the sandwich and… WOAH.
How do I even begin to describe this?
The bread was toasted to perfection with a crispy outside, while the insides remained buttery soft. The omelette was eggy and soft too, which complemented the tender, savoury bacon. To balance out the sandwich, they've also added slices of sweet and crunchy cucumbers. Combined with salted butter and mayonnaise, it was a fusion of flavours so warm and hearty, we couldn't help but let out a long, gratifying "Mmmmmm.."
Anyone could make a bacon and eggs sandwich, but because every single ingredient in the Bacon & Eggs Sandwich is so fresh and/or well-made that after they've assembled them, the end result is a consistently perfect sandwich.
Simply put, it felt like an intricate breakfast that all came together in one big bite. Was it the best sandwich we've had? No cap, sis.
Bacon & Eggs Sandwich: 5 / 5
For our second helping, we ordered the Bacon & Chicken Ham Sandwich (NT$95 / S$4.30) as recommended by the cafe staff. Like the first sandwich, the bread was toasted to perfection.
Instead of a warm, hearty flavour, the Bacon & Chicken Ham Sandwich was a light, refreshing variation. The lettuce and tomatoes were so fresh that they had a natural sweetness and crunch! Coupled with the tender chicken ham and savoury bacon, the different textures and flavours just came together so well. After a long afternoon on the computer, this is THE sandwich you'll need for a tea break snack.
Again, it's a simple sandwich that could be assembled by any cafe or eatery, but CAT.jpg Cafe's commitment to fresh ingredients is obvious in the perfect sandwiches they make.
Bacon & Chicken Ham Sandwich: 5 / 5
Will we return to CAT.jpg Cafe?
Yes! Great cafes are hard to come by, but great cafes with delicious food are even rarer. It might sound like stretch, but after we've tasted CAT.jpg Cafe's sandwiches, we could never settle for anything less. 😫
So for my upcoming trip to Taipei (yes, again!), you can bet that I'll be getting my sandwich fix at CAT.jpg Cafe at least twice a week. If you're also heading to Taipei soon, don't forget to bring your YouTrip card along to utilise YouTrip's Wholesale Exchange Rates for favourable New Taiwan dollar (NTD) currency exchange rates.
CAT.jpg
Operating hours: 7.30am to 7pm (weekdays), 8am to 6pm (weekends)
Address: No. 154, Chaozhou Street, Da'an District, Taipei City, Taiwan 106

Read: Taipei Food Guide: 5 Must Eat Restaurants in Taipei
Read: 4D3N Taipei Itinerary Guide: Things To Do in Taipei
Read: Beijing Food Guide: 5 Best Must-Eat Restaurants in Beijing
Read: Seoul Food Guide: 8 Best Must-Eat Restaurants in Seoul
Read: 5 Food You Must Eat in JB Mid Valley Southkey Mall
Enjoy a worldwide fees-less travel experience!