Think Taiwan is all about pineapple tarts? There are also tons of inexpensive, famous Taiwan snacks that you must buy in Taipei supermarkets to haul home!
When it comes to stuffing your luggages with famous Taiwan snacks in Taipei, it's common to see travellers buy boxes and boxes of pineapple tarts to haul home.
Taipei Supermarket Haul Series:
• 9 Taiwan Instant Noodles You Must Buy in Taipei 🍜
• 15 Taiwan Snacks Your Tour Guide Won't Show You 🍭
• 18 Taiwan Canned Food You Need to Buy Home 🐟
Fortunately for us, my Taiwanese friends have revealed a list of popular Taiwan's must buy snacks that only locals would know. The best part? These locally famous Taiwan snacks are inexpensive and can be found in major supermarkets all across Taipei!
Here's a list of 15 famous Taiwan snacks recommended by locals that you must buy before flying home:
1. Peacock Biscuit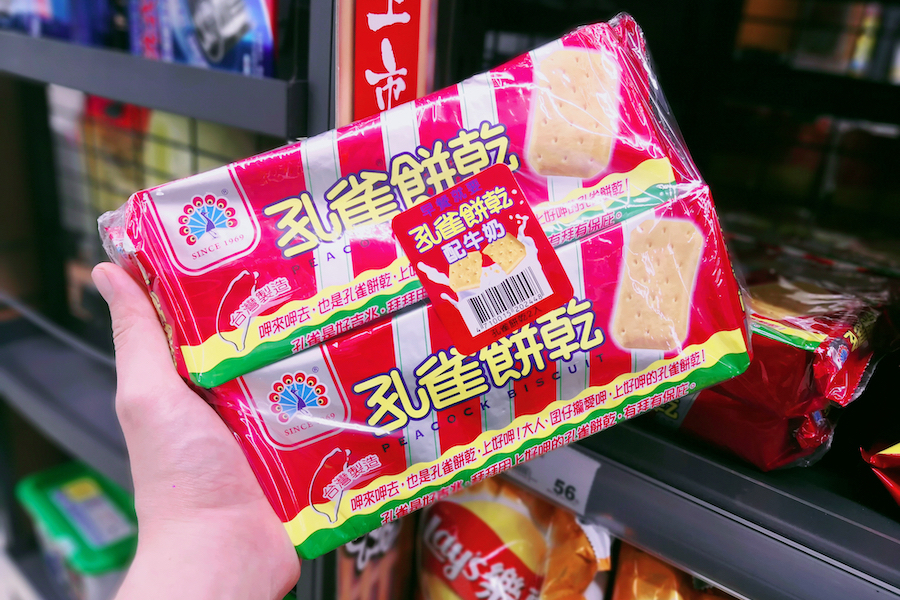 Eating biscuits with milk is one of the most satisfying lazy snacks – and there's no better flavour than Peacock Biscuit. It's a childhood favourite snack for many local Taiwanese and it remains popular among adults and children even till today!
Price: ~S$2.50 (NT$56) per two pack
2. Wang Wang Onion Crackers
Wang Wang is more than just rice crackers. These onion crackers are shaped like popcorns and every crunch is savoury with onion fragrance, perfect for a Netflix binge!
Price: ~S$2.60 (NT$58)
3. Pea Crackers
Okay, so I've been told this is the OG – a must buy snack in Taiwan. Original vintage packaging on the left and new packaging on the right. The savoury garlic flavour is dangerously addictive and the green pea aftertaste adds a hint of sweetness too!
Price: ~S$0.90 (NT$20)
4. Raisin Sesame Soft Flour Cakes (Sachima)
Sachima is extremely popular in the Mandarin-speaking community. The blocks are made of fluffy fried batter bound with stiff sugar syrup and flavours vary from region to region. This famous Taiwanese version has raisin and sesame, giving the Sachima a fragrant blend of both sweet and savoury in one bite!
Price: ~S$2.80 (NT$63)
5. Ke Xue Mian (Science Noodles)
If you recall, the famous Science Noodles also appeared on our list of 9 Taiwan Instant Noodles You Must Buy in Taipei. In addition to regular instant noodle packs, Science Noodles are also available in 20 mini party packs!
Price: ~S$2.50 (NT$55)
6. Vegetable Biscuit
Hold up! Not all snacks are high in sodium and sugar. This traditional, vegetarian-friendly biscuit has zero artificial flavouring, colouring, MSG, and preservatives. No wonder it's been a healthy favourite Taiwan snack among locals for the longest time!
Price: ~S$1.10 (NT$25)
7. Baby Rice Crackers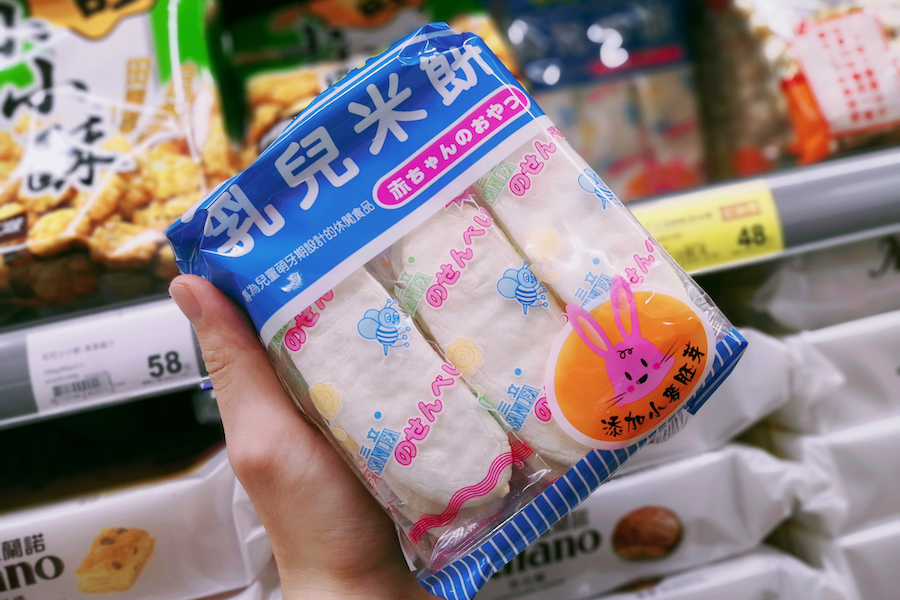 While these Baby Rice Crackers are made for babies to chew on during teething, it has also become a favourite among health-conscious snackers. With added nutritional wheat, there's really no guilt when munching on these rice crackers!
Price: ~S$2.10 (NT$48)
8. Asparagus Juice
Yes, you read that right. This Asparagus Juice is one of Taiwan's oldest canned juice – a true vintage. The first sip may be a little hard to overcome, but after you get past that, it tastes just like a mixture of barley and wheatgrass. Definitely a pleasant surprise!
Price: ~S$0.40 (NT$8)
9. Pure Coconut Juice
Another famous Taiwan canned juice is none other than the popular Pure Coconut Juice. It's smooth and refreshing, perfect for a cool down after exploring Ximending and eating delicious local street food!
Price: ~S$1.30 (NT$28)
10. Taiwan Fruit Beer
No trip to Taiwan is complete without trying their famous Taiwanese Fruit Beer. Infused with yummy fruit flavours like mango, pineapple, and grapes, you won't be able to stop at one can. Though only 2.8% alcohol content, we don't recommend binge drinking!
Price: ~S$1.40 (NT$30)
11. Taiwan Beer
In addition to creative fruit beers, regular Taiwan Beer is equally famous. Original vintage brown bottle packaging on the left and new packaging on the right. You probably cannot bring this back in your luggage, but who says you can't have a hotel room party! Speaking of Taipei hotels, have you heard about the rumours of Grand Hyatt Taipei? 🤔
Price: ~S$2 (NT$44)
12. Bubble Black Tea
Bubble Black Tea, another classic local beverage, is loved by many Taiwanese. The packaged tea is smooth and easy to drink at any time of the day, whether it's after a heavy meal at one of Taipei's best restaurants or you're just looking to hydrate after a long day day trip outside the capital city.
Price: ~S$3.20 (NT$72) per six pack
13. Hey Song Sarsaparilla
Most seasoned Taiwan travellers know that Hey Song Sarsaparilla is one of Taiwan's most famous beverages and definitely won't miss it. Instead of paying S$5 a can in pop up Taiwanese markets in Singapore, share a six pack with your Taipei travel pals with just 1/10 of the price!
Price: ~S$3.20 (NT$72) per six pack
14. Caramel Milk Candy
On top of savoury snacks and popular drinks, you gotta satisfy your sweet tooth too! This Caramel Milk Candy is also a must buy Taiwan snack and a childhood favourite for many locals due to its rich, creamy, and milky flavour.
Price: ~S$1.50 (NT$33)
15. Sour Plum Lollipop
Sour Plum Lollipop… it's the best! Every lollipop has a sour plum enclosed in the centre by hardened honey or caramel sugar. As the sweet outer layer starts to dissolve, bursts of the sour flavour becomes stronger until you finally reach the sour plum core!
Price: ~S$2.50 (NT$55)
Excited to stuff your luggage with these Taiwan snacks? To get you started on a Taipei holiday, here's a series of handy guides to follow:
Part #1: Taipei Food Guide – Which Best Restaurants to Eat?
Part #2: Taipei District Guide – Which District to Stay in Taipei?
Part #3: Taiwan Travel Guide – Which Day Trips from Taipei to Take?
Part #4: Taipei Itinerary Guide – 4D3N in Taipei
Also, remember to bring your YouTrip card to utilise YouTrip's Wholesale Exchange Rates for favourable New Taiwan dollar (NTD) currency exchange rates!
Read: Rilakkuma Cafe Review: Taipei Food Guide
Read: CAT.jpg Cafe Review: Taipei Food Guide
Read: Taiwan Pride: My First Taipei LGBTQ+ Pride Experience
Read: 10 Korea Winter Wear & Ulzzang Outfits Under $40
Read: 4 Haunted Hotels in Asia & Their Horror Stories
Enjoy a travel experience with no fees worldwide!