Rilakkuma Cafe (拉拉熊咖啡廳) in Taipei, Taiwan serves up super cute themed food of the beloved comic bear and friends that will make you squeal with delight!
Rilakkuma Cafe (拉拉熊咖啡廳), located just a 7-minute walk from Zhongxiao Dunhua Metro Station, is easily spotted with its brightly-lit orange decor and an oversized Rilakkuma bear at the cafe entrance.
Here's some handy guides for your Taipei holiday:
Part #1: Taipei Food Guide – Which Best Restaurants to Eat?
Part #2: Taipei District Guide – Which District to Stay in Taipei?
Part #3: Taiwan Travel Guide – Which Day Trips from Taipei to Take?
Part #4: Taipei Itinerary Guide – 4D3N in Taipei
Part #5: Taiwan Hotel Promotions List
Our local friends recommended us to make a reservation due to the cafe's popularity, but I was busy marching with 200,000 supporters at the 17th annual Taiwan Pride right after I touched down in Taipei. I woke up early the next morning to review the popular CAT.jpg cafe tucked away in Taipei's Chaozhou Street neighbourhood, so the reservation call just kinda… slipped. 😅
Fortunately, I made the good decision to visit Rilakkuma Cafe during an off-peak period. When I arrived with a friend on Sunday evening, there were plenty of tables! So here's a food review of Rilakkuma Cafe in Taipei:
Ambience in Rilakkuma Cafe
The themed cafe is based on Rilakkuma, the fictional brown bear and its friends Korilakkuma (a white bear) and Kiiroitori (a yellow chick). As we stepped into the adorable cafe, we were impressed by the huge selection of Rilakkuma merchandise on display.
Mugs, plates, cutleries, notebooks, pouches, plushies of all sizes and a variety of lifestyle accessories. Rilakkuma and friends were also in every corner of the cafe on tables and walls, including the toilets!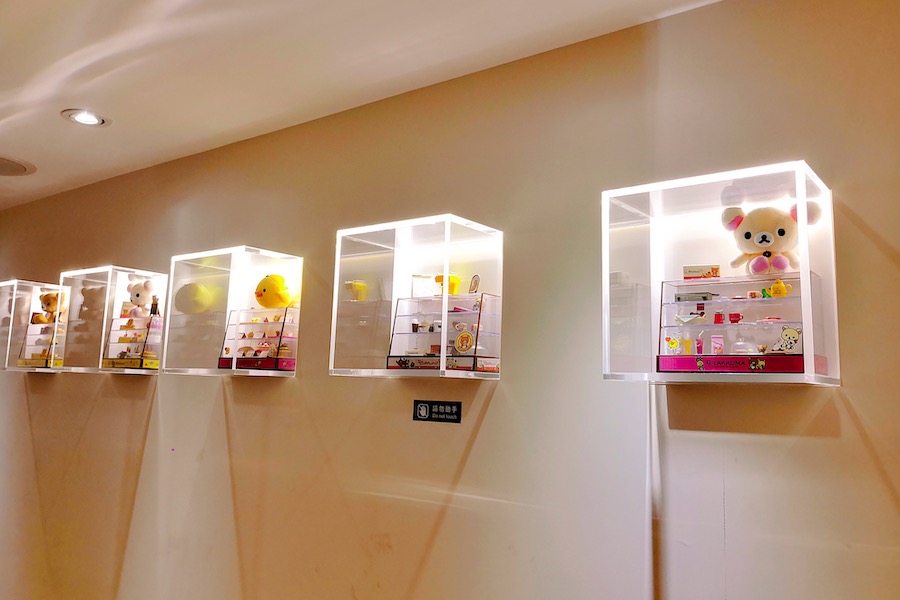 Rilakkuma Cafe Prices
| | | |
| --- | --- | --- |
| Menu | Price (NTD) | Approx. Price (SGD) |
| Daily Soup | NT$120 | S$5.40 |
| Caesar Salad | NT$200 | S$9 |
| Rilakkuma Mini Rice Burger Platter | NT$320 | S$14.40 |
| Fried Platter | NT$280 | S$12.60 |
| Carbonara | NT$300 | S$13.50 |
| Black Truffle & Porcini Mushroom Risotto | NT$300 | S$13.50 |
| Rilakkuma Fried Cheesy Pork Chop with Black Curry Sauce | NT$360 | S$16.20 |
| Rilakkuma Omelet with Boeuf bourguignon | NT$360 | S$16.20 |
| Korilakkuma Strawberry Cheese Cake | NT$200 | S$9 |
| Fruit Cheese Mousse Cake | NT$160 | S$7.20 |
| Rilakkuma Chocolate Mousse | NT$180 | S$8 |
| Americano | NT$130 | S$5.80 |
| Matcha Latte | NT$160 | S$7.20 |
Rilakkuma Cafe Food Review
We really wanted to see a 3D Rilakkuma in rice form, so we ordered the Rilakkuma Fried Cheesy Pork Chop with Black Curry Sauce (NT$360 / S$16.20) to share.
Unlike the impressive display, the food was… average. The rice was unnaturally sticky and chewy, perhaps made that way on purpose to allow easier moulding into a bear, but that texture certainly didn't go well with curry at all.
The black curry also fell flat in taste and it seemed like something you'd get out of an instant Japanese box curry. While the pork chop had a light, crispy batter, the meat was dry and bland. Food in themed cafes usually don't taste the best, so we didn't expect too much either.
Rilakkuma Fried Cheesy Pork Chop with Black Curry Sauce: 2.5 / 5
Instead of pinning our hopes on another savoury dish, we decided to give their desserts a shot. Rilakkuma Cafe had their desserts on display, so we could admire their adorable handiwork before making a decision.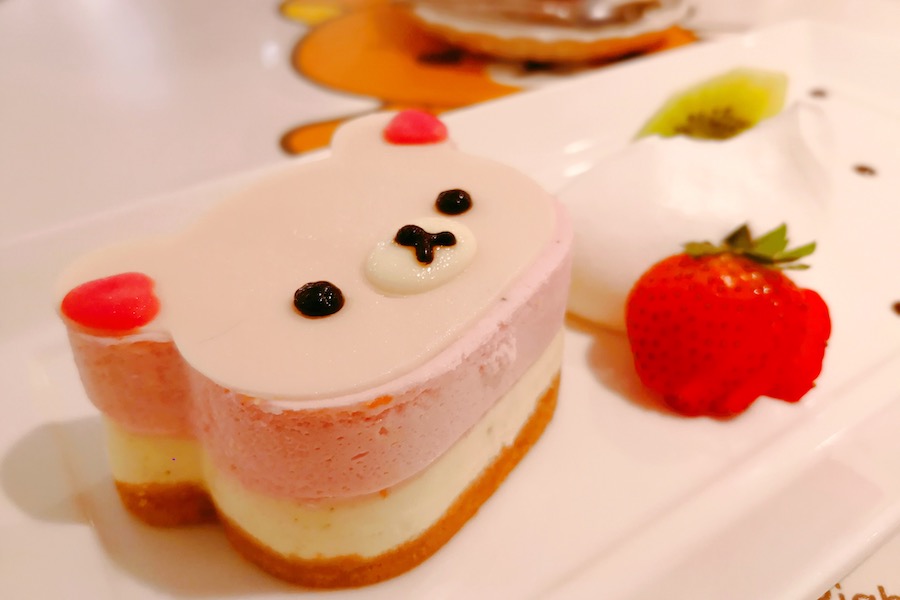 It's usually hard to go wrong with cheesecakes, so we decided on the Korilakkuma Strawberry Cheese Cake (NT$200 / S$9). We didn't know the top layer of Rilakkuma bear's face was actually a thin piece of white chocolate!
The light crisp went well with the two rich layers of strawberry and original cheesecake, while the final crumb base added a light, crunchy biscuit flavour.
Korilakkuma Strawberry Cheese Cake: 4 / 5
To satisfy our sweet tooth, we ordered another dessert – Rilakkuma Chocolate Mousse (NT$180 / S$8). We noticed a dropper filled with pink liquid behind the chocolate Rilakkuma head, and apparently it was strawberry juice! We squeezed it slowly as we pulled it out of the mousse, so that the juice would be evenly distributed.
The tiny pieces of chocolate balls, filled with strawberry jam, also added a crunchy texture to the smooth, creamy mousse. This was one sinful treat.
Rilakkuma Chocolate Mousse: 4 / 5
Will we return to Rilakkuma Cafe?
It's great for first-timers, but I probably wouldn't visit Rilakkuma Cafe again. Don't get me wrong though – the desserts were great, but visiting a themed cafe once for the novelty is good enough for me. 😌
If you're looking for a cute place to hangout with your significant other or wanna bring your kids to a fun place to eat, then yes you should drop by Rilakkuma Cafe!
Also, when footing the bill, remember to pay in New Taiwan dollar (NTD) with your YouTrip card to enjoy favourable rates with YouTrip's Wholesale Exchange Rates!
Rilakkuma Cafe
Operating hours: 11.30am to 9pm (weekdays), 11am to 9.30pm (weekends)
Address: No. 3, Lane 248, Section 4, Zhongxiao East Road, Da'an District, Taipei City, Taiwan 106
Read: 9 Taiwan Instant Noodles You Must Buy in Taipei
Read: CAT.jpg Cafe Review: Taipei Food Guide
Read: 4D3N Taipei Itinerary Guide: Things To Do in Taipei
Read: Taipei Food Guide: 5 Must Eat Restaurants in Taipei
Read: 5 Food You Must Eat in JB Mid Valley Southkey Mall
Enjoy a travel experience with no fees worldwide!