Just got on Disney Plus Singapore? If you're wondering what to watch, we're here to help you out. Whether you're a movie buff who loves discovering indie films or a '90s kid looking to hit that nostalgia button, we've rounded up highly-rated movies and tv shows to binge on this weekend.
You finally got your hands on a Disney Plus Singapore (Disney+) subscription but you don't really know where to start. We get it! When you have that many titles to choose from, it can get pretty overwhelming (Consumer hyper choice is a thing! Look it up).
Ultimate Disney Plus Singapore Guide:
Disney Plus Singapore: Best Movies & TV Shows to Watch
To help you out, we've shortlisted some of the top-rated shows on the platform so that you don't have to waste precious time figuring it on your own. Read on for the list!
What To Watch On Disney Plus Singapore:
(Click to jump to section)
Disney Plus Singapore – Disney Movies & Series
Flora & Ulysses: For a heartwarming, modern superhero flick
Credits: Variety.com
One of Disney+'s more recent releases, Flora & Ulysses, has a plot that is quite unlike your typical Disney flick. Superhero squirrels, cynical young girls… Say whutttt? However, it still retains the same 'ol magic and excitement that most Disney films possess. With a pretty decent Rotten Tomatoes rating, it's definitely worth the watch.
Rotten Tomatoes Rating: 70%
YouTrip Rating: 85%
High School Musical Series: If you want a blast from the not-so-distant past (and then some)
Credits: giphy.com
If we have to tell you we're Gen Y without actually telling you, we'd probably just sing and dance to We're All In This Together. However, the High School Musical series doesn't just end at the classic trilogy. We're talking spin-offs like Sharpay's Fabulous Adventure, High School Musical The Musical, and even an all-new cast that stars in a TV series! We decided to average out all the Rotten Tomatoes reviews and we're looking at a pretty solid rating for such a big series!
Rotten Tomatoes Rating: 70%
YouTrip Rating: 80%
Disney Plus Singapore – STAR Movies & Series
Isle of Dogs: If you're in the mood for something quirky
Credits: Dazed
Oh, Wes Anderson – the filmmaker that can do no wrong. Isle Of Dogs is a stop-motion masterpiece set in Megasaki City, where all dogs were exiled to a garbage-filled land. The story follows a young protagonist who crashes on the island in search of his lost pup. We love this show because of its 1. enchanting cinematography, and 2. dogs. This indie flick is easy to watch and will tug on the heartstrings of any dog lover out there!
Rotten Tomatoes Rating: 90%
YouTrip Rating: 95%
The Simpsons: Binge on all 32 seasons!
Credits: giphy.com
Unless you've been living under a rock, you're most likely acquainted with The Simpsons and their shenanigans. We love this series for its easy-to-follow plot, making it the perfect show to watch after a long day at work. Plus, each episode is under 25 minutes so you can cover several episodes in one sitting. Just make sure to prep enough snacks by your bedside! You might even want to check out our list of work-from-home essentials so that you can binge in comfort 🤤
Rotten Tomatoes Rating: 85%
YouTrip Rating: 90%
Disney Plus Singapore – National Geographic Movies & Series
Cosmos: A Spacetime Odyssey: Learn about the wild and wonderful universe
Credits: Fox.com
The world as we know it is strange and crazy, yet a stunning enigma that's too complex for us to fully comprehend. However, this series presented by the one and only Neil deGrasse Tyson sets out to help us understand the world that we live in and the forces that drive it. Enlightening, educational, and almost philosophical, it's really quite unlike any show out there in the universe.
Rotten Tomatoes Rating: 95%
YouTrip Rating: 95%
The World According to Jeff Goldblum: For a docuseries unlike any other
Credits: USA Today
On the other end of the spectrum, this docuseries by Jeff Goldblum (ICYMI, he's that guy from Jurassic World) focuses on the mundane and ordinary while giving it a breath of new life. Instead of focusing on abstract theories, the series touches on the familiar and its social, historical, and even economic implications. For instance, the way coffee has evolved over the decades or the influence that sneakers have on our world today. Pretty neat, huh? We think it's worth binging if you love having an arsenal of fun facts in your back pocket.
Rotten Tomatoes Rating: 82%
YouTrip Rating: 90%
Disney Plus Singapore – Marvel Movies & Series
Black Widow: Introducing Florence Pugh into the MCU
Meant to follow Captain America: Civil War, Black Widow is about Natasha Romanoff's dark past and the dangerous conspiracies tied to it. You'll get a ton of family drama and comedy from the newly introduced dynamics between Romanoff, her surrogate parents and her 'sister' (Florence Pugh). While it's been said that Scarlett Johansson felt sidelined in her own movie for the majority of it, you are still promised a ton of action in the form of helicopter-led jailbreaks, frenetic vehicle chases and country-hopping adventures.
Rotten Tomatoes Rating: 79%
YouTrip Rating: 70%
Loki: Your Favourite Supervillain Finally Takes Centrestage as a Charming Antihero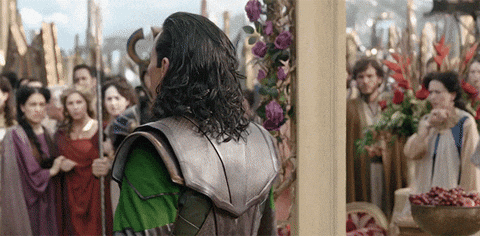 Following Avengers: Endgame, we follow Loki down a rabbit hole into an alternative timeline that he creates — and the price he has to pay thereafter. If you're not already won over by his dazzling grin or mischievous glint in the Marvel movies, we're pretty sure you'll be won over by the end of episode one. Owen Wilson also makes his debut into the Marvel Universe in Loki, adding a down-to-earth, relatable aspect to the otherwise mind boggling backdrop and set-up.
Rotten Tomatoes Rating: 96%
YouTrip Rating: 98%
WandaVision: Say goodbye to FOMO and be part of the in-crowd
Credits: Los Angeles Times
You didn't think we'd leave this one out, did you? It's definitely won the hearts of legions of Marvel fans worldwide! Unlike your typical Marvel Universe series (or in fact, anything we've seen before), WandaVision supposedly takes place post-Endgame and pays homage to the classic television as we know it. Both protagonists travel through the different time periods of television tropes and of course, embark on action-packed adventures in true Marvel style. Tip: if you find the first couple of episodes rather confusing, please pull through!
Don't forget to take some time to appreciate Wanda's amazing outfits across the different episodes too. Oh, and if TV-inspired fashion is up your alley, check out our Bling Empire fashion guide!
Rotten Tomatoes Rating: 91%
YouTrip Rating: 98%
Black Panther: The most highly-rated Marvel film of all time
Credits: giphy.com
You might've watched this film several times, but it isn't ranked the top Marvel movie for nothing! Other than it's high ratings, Black Panther is worth a rewatch simply for the many nuances that go unnoticed, especially with the amount of action going on. There's parallels to real-world stereotypes and prejudice, as well as its emphasis on community over self. Without going in too deep, we reckon you should check it out for yourself!
Rotten Tomatoes Rating: 96%
YouTrip Rating: 100%
Disney Plus Singapore – Star Wars Movies & Series
The Mandalorian: No Disney Plus experience is complete without watching this
Credits: giphy.com
It's no secret that the Star Wars series has a pretty convoluted timeline. There are even guides on how to watch the entire series! Apparently, not everyone believes that watching it in chronological order is the best way to fully appreciate the franchise. Taking place after the fall of the empire (5 years after The Return of The Jedi), The Mandalorian follows a lone gunfighter whose predecessors are some familiar names like Jango and Boba Fett. And if you were wondering where Baby Yoda comes in… well, we'll leave it for you to find out what comes next!
Rotten Tomatoes Rating: 93%
Our Rating: 85%
Clone Wars: To delve deep into the Star Wars franchise
Credits: StarWars.com
Whether you're a hardcore Star Wars fan or someone looking to learn more about the epic franchise, Clone Wars should definitely be on your watchlist. This Star Wars spinoff essentially takes place between The Attack of The Clones and the Revenge of The Sith, and follows the 3-year war between the Republic and the Confederacy, with Anakin Skywalker and Obi-Wan Kenobi, and of course, Ashoka, in the spotlight. Thus, you get to enjoy a slightly more nuanced understanding of the entire franchise — something the main films might not have the capacity to do.
Rotten Tomatoes Rating: 93%
YouTrip Rating: 90%
Disney Plus Singapore – Pixar Movies & Series
Luca: A Light-hearted Story of Friendship and Adventure Along the Italian Riviera
Image Credits: Variety
Live vicariously through the eyes of a young boy in this latest edition to Pixar's collection of beautifully animated movies. Luca is a coming-of-age film that addresses important issues in an effortless and humorous manner — things like owning one's identity, accepting others, as well as being brave enough to chase after your dreams. This one's not just for the young at heart or for the young, but for tired and uninspired adults who need that refreshing reminder of a carefree summers' past!
Rotten Tomatoes Rating: 89%
YouTrip Rating: 90%
Lava: If you want to spend an entire day watching Pixar's iconic short films
Credits: pixar.com
Remember how there'd always be a short film before every Pixar movie? Well, you'd be glad to know that Disney Plus Singapore has so kindly curated every single one of them! On our highlight reel, however, is Lava who is a lone volcano looking for love — "I'm looking for someone to lava." Aww. Just like any good story, its plot sends you on an emotional trip while giving you some visual eye candy in the form of amazing animation. Although it's only 7 minutes long, it somehow managed to score a 72% on Rotten Tomatoes. When you're done, please proceed to watch all the other 24 shorts.
Rotten Tomatoes Rating: 72%
YouTrip Rating: 95%
A Bug's Life: A generation-defining #throwback
Credits: giphy.com
Oh, who could forget A Bug's Life? It was probably one of the better-produced films back in the day (this film was released in 1998 — 23 years ago!) and with such a fun plot too! In case you need a quick refresh, it's about a klutzy ant by the name of Flik who often finds himself in sticky situations( no pun intended). During one of his usual mishaps, he ends up crossing paths with a bunch of flying insects that make his adventure a lot more interesting. Rated 92% on Rotten Tomatoes, why not take a trip down memory lane with this one? We promise it'll put a smile on your face!
Rotten Tomatoes Rating: 92%
YouTrip Rating: 89%
So, what's next to watch on Disney Plus Singapore?
At this point, you're either a Disney Plus Singapore convert looking for some shows to watch or someone who's on the fence about getting a subscription. If you're the former, then we hope you'll enjoy our shortlist of shows to watch!
However, if you're the latter, then we're here to convert you. Read all about subscription services, and how you can avoid overpaying with the use of a card like YouTrip here.
Oh, and don't forget to check out our Disney+ cheat sheet filled with all you need to know from pricing to a pretty in-depth look at all the content channels!
For more great tips and guides like this, join our Telegram Community (@YouTripSquad) and subscribe to our free weekly newsletter here or down below!
Related Articles
COVID-19 Vaccine: Peaky Blinders, Disneyland, & Other Surprising Vaccination Hubs
Rising Popularity of Online Subscriptions & How to Avoid Overpaying
Cheaper With YouTrip: 7 Digital Subscriptions & Games
Top banner image from Rotten Tomatoes.