Fun fact: the VAT tax in Greece is at a high rate of 24%! So whether you're travelling to Athens or Thessaloniki, read on for a guide on VAT refunds in Greece and the best places to satisfy your luxury shopping needs!
For many, travelling to Europe is a must for a number of reasons. With diverse cultures, amazing architecture and limitless adventures, it's no wonder the continent is known to be quite a haven for luxury shopping. With amazing deals uncovered in beautiful boutiques, there's no doubt that Europe's anointed 'the best-dressed continent' in the world. Go on a shopping spree yourself and get dubbed "fashionista" when you splurge on your next drip in Greece!
We've prepped a quick and handy guide on VAT refunds in Greece, the best places to fully immerse yourself in tax-free shopping, as well as the most promising areas and luxury stores to visit in the land of stunning beaches and ancient ruins. Get reading!
💜 Stay Up To Date:
– Looking To Get The Best Bang For Your Buck? — YouTrip SaveTrippin'
– Tired Of Queuing Up At Money Changers? Save Time With YouTrip — SaveTrippin'
– Don't Miss Out Saving With The Best Deals — YouTrip SaveTrippin'
VAT Tax & Refund Rates In Greece
While most of us might have heard of the value-added tax (VAT) refunds, not everyone knows how it actually works. To put it simply, non-European citizens are eligible to receive a refund on the VAT tax for all of their purchases (except alcohol and lubricants for ships) when spending a minimum of 50 Euros. Although it might not sound like a lot at first, keep in mind that the VAT tax is rather high in Greece with a standard rate of 24%!
Here's a little summary to help make things easier:
Rate
Type
Good & Services
Standard
24%
All other taxable goods & services

Preferential
17%
All other taxable goods and services rendered to the islands of:
🇬🇷 Chios
🇬🇷 Kos
🇬🇷 Leros
🇬🇷 Lesbos
🇬🇷 Samos

Reduced
13%
Including but not limited to:
✅ Bread, eggs, & dairy products inc. milk & cheese
✅ Sea produce inc. fish & shellfish
✅ Agricultural produce (vegetables, fruits, fruit juices)
✅ Meat & live animal produce
✅ Supply of vinegar, olive oil, & salt
✅ Confectionary products inc honey & cocoa products
✅ Accommodation & related services provided by hotels (provided that the accommodation only includes breakfast services), retirement homes, boarding schools, as well as centres for disabilities

Preferential
9%
Goods and services subject to the reduced rate rendered to the islands of:
🇬🇷 Chios
🇬🇷 Kos
🇬🇷 Leros
🇬🇷 Lesbos
🇬🇷 Samos

Super-Reduced
6%
✅ Health, medical, & pharmaceutical supplies
✅ Items used by the visually impaired (EG: walking sticks & Braille typewriters)
✅ Vaccines for human use
✅ Supplies of gas, electricity, & heating
✅ Books & E-Books inc. newspapers & magazines
✅ Music (printed & handwritten form)
✅ Concert & theater tickets

Preferrential
4%
Goods & services subjected to the super-reduced rate rendered to the islands of:
🇬🇷 Chios
🇬🇷 Kos
🇬🇷 Leros
🇬🇷 Lesbos
🇬🇷 Samos

Zero
0%
Including but not limited to:
✅ Exports
✅ Intra-community supplies
✅ Services incurred in relation to goods acquired/imported & worked in Greece which is subsequently exported outside the EU
✅ Supply of goods exported for humanitarian, charitable, & educational activities
✅ Transport & ancillary services related to exported goods
✅ Mediation & Dental services

With VAT refunds, you might be able to save a little more on top of the original price of your purchase. In Greece, the refund rate goes from 8.7% to 16.7% depending on the purchase amount.
| | |
| --- | --- |
| Spending | Refund Rate |
| Purchases costing less than 6,000 Euros | 8.7% – 15.7% |
| Purchases costing more than 20,000 Euros | 16.7% |
Shop Till You Drop In Athens:
1. McArthurGlen Outlets
Image Credits: Grekomania
Located just 30 minutes away from the city centre of Athens and 15 minutes away from the airport, McArthurGlen Designer Outlet Athens offers a unique shopping experience with over 110 stores in an exquisitely designed centre.
Designed to complement the local area, the village-style centre offers a wide range of sophisticated restaurants and relaxing cafes as well as a play area for children. On top of that, you can enjoy discounts ranging from 35% to 70% on premium designer brands such as Salvatore Ferragamo, Alberta Ferretti, Hugo Boss, Moschino, Versace, Tommy Hilfiger, Cavalli, Lacoste, Nike, American Vintage, and more!
The best part is that you can instantly collect your Tax-Free refund at the 'One Exchange' office located on the first floor of the centre.
Address: Oikodomiko Tetragono E71, Gialou, Spata 190 04, Greece
Opening Hours: 10 AM – 9 PM on weekdays. 10 AM – 8 PM on Satudays.
Save On Luxury Shopping In Greece: Find out more about McArthrGlen Designer Outlet Athens here
2. Kolonaki
Image Credits: Athens & Beyond
The central neighbourhood of Kolonaki is one of the oldest districts in Athens and a must to visit if you love to shop. Sip on a cup of Greek coffee and grab a crossaint from one of the trendy cafes in the district. Or explore the numerous art galleries, luxury brands, hip boutiques, and shoe emporiums! At Kolonaki, you can find a healthy mix of independent Greek designer and international designer stores, giving the area a vibrant colour.
Visit Luisa World, one of Athens' most eclectic and innovative fashion stores, to discover the latest collections of high-end labels like Celine, Isabel Marant, Rag and Bones, Lanvin and more! For one-of-a-kind fashion created by local designers, browse the stores nestled within the small alleyways that veer off from Platia Kolonakiou. Continuing onwards, stop by Voukourestiou Street for flagship stores of high-end fashion brands, including Audemars Piguet, Dior, Gucci, Hermes, and Cartier.
Save On Luxury Shopping In Greece: Find out more about Kolonaki here
3. Kifissia
Image Credits: This Is Athens
Known as the Beverly Hills of Athens, Kifissia is just a 30-minute train ride from the city centre and is known for great shopping, dining, and timeless charm. You can enjoy glamorous shopping, admire wonderful art, dine at amazing restaurants, and relish the cool air and abundant greenery of the area. Of course, with the boutiques being the exclusive domain of the elite, it is no wonder that you will be able to score a bargain or two at Kifissia.
For trendy-chic daywear, head straight to Paramour and Soho-Soho for pieces designed by Alexandar Wang, Golden Goose, Hartford, Isabel Marant, Diptyque, etc. If you're looking for high-end labels, try boutiques such as Simple Caracteres, Luisa World, Access Boutique or Detroit for brands such as Maison Margiella, Canada Goose, Kenzo, Louis Vuitton, and Givenchy! No doubt the ultimate summer retreat for seasoned shopaholics.
Save On Luxury Shopping In Greece: Find out more about Kifissia here
Explore The Shopping Haven Of Thessaloniki:
4. One Salonica Outlet Mall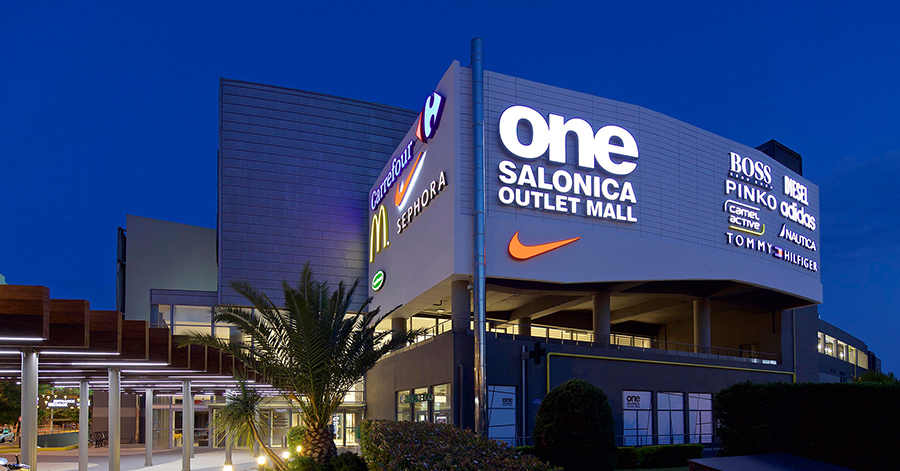 Image Credits: Grekomania
One Salonica enjoys a privileged location in Thessaloniki's West entrance at the exit of Egnatia Road, that connects the city with the rest of Northern Greece and Balkans. Located just 3km from the city centre, the mall features over 60 different Greek and international brands at incredibly competitive prices.
You can expect to enjoy up to 70% off brands like Polo Ralph Lauren, Nike, Juicy Couture, Calvin Klein Jeans, Samsonite, Adidas, Puma, Lacoste, and many more. Aside from fashion stores, the mall is home to a wide array of tasty delights and great beverages as well. Enjoy a new-generation shopping experience without having to burn a hole in your wallet!
Additionally, you can instantly collect your Tax-Free refund in the centre of the mall. Just make sure you have the proper paperwork and details!
Address: Kotta Roulia 10, Thessaloniki 546 27, Greece
Opening Hours: Mondays – Fridays, 10 AM – 9 PM. Saturdays, 9 AM – 8 PM. Closed on Sundays.
Save On Luxury Shopping In Greece: Find out more on One Salonica Outlet Mall here
5. Proxenou Koromila Street
Image Credits: Grekomania
For a truly sartorial splurge, Proxenou Koromila Street is the place to be in Thessaloniki. As the most exclusive shopping street, it's just one block up from the sea and runs parallel to Nikis Avenue. Running between Ploutarchou in the west and Morgentau in the east, it's safe to say that you'll definitely find something suited to your every need.
Along the street, you'll be able to find exclusive outlets for brands such as Dolce & Gabbana, Louis Vuitton, Max Mara, and Armani. Keep in mind that this area is known for luxury shopping! Hence, even the smaller boutiques offer a very selective and unique range of premium Greek products.
Address: 24 Proxenou Koromila Street, 54622 Thessaloniki Thessaloniki
Save On Luxury Shopping In Greece
Release Your Inner Shopaholic In The Islands of Greece
As the main characteristic of Greece's morphology and an integral part of the country's culture and tradition, the Islands of Greece includes 6,000 islands and islets scattered in the Aegean and Ionian Seas. Of these islands, only 227 are inhabited, making this a truly unique phenomenon for the European continent. When you set out on a journey to discover the fascinating world of Greek islands, you'll be sure to find many luxury brands in popular shopping areas and even score a better deal or two than on the mainland.
6. Mykonos
Image Credits: holidayify
Despite its small size, Mykonos is a great shopping destination for tourists and locals alike. For years, it has been the central meeting spot for celebrities and billionaires. Head to Nammos Village for an open-air concept built in classic Cycladic style. Situated on Psarou Beach, the village offers discounts on popular fashion brands such as Dolce & Gabbana, Celine, Gucci, Jimmy Choo, Balenciaga, Balmain, and Valentino to name a few. For those who fancy an inexpensive watch or two, check out the Rolex store for amazing deals.
A tip for jewellery lovers: Handcrafted gold is extremely inexpensive in Greece and Mykonos in particular is known for the best jewellery throughout the country. While the cost of gold is the same throughout the world, Greece has cheaper labour costs, translating into lower retail prices for some of the best craftsmanship in the world. Head straight to GOFAS jewellery store in Mykonos Island to view its extensive collection of gold jewellery and bring home a little part of Greece with you for a fraction of the cost!
Save On Luxury Shopping In Greece: Learn more about Mykonos here
7. Santorini
Image Credits: Meet Santorini
Ranked as the world's top island, Santorini is a gorgeous island situated 200km from central Greece and is easily accessible by ferry or plane. With its beautiful and signature blue and white domed buildings, shimmering waters, and endless streets of food and shopping, you can find a diverse range of shopping venues in this area.
Take a walk through Gold Street for some of the most beautifully handcrafted jewellery in the Santorini style. As you enter the two biggest villages, Fira and Oia, you can find plenty of extravagant shopping stores to indulge in ranging from labels such as Versace, Armani, Givenchy, and Thom Brown! For a truly unique experience, head to The White Santorini for hand-sewn luxury Greek items designed by Sophia Hatzigeorgiou.
Save On Luxury Shopping In Greece: Find out more about Santorini here
8. Crete
Image Credits: Matador Network
The biggest out of all Greek islands, Crete is home to some truly fantastic luxuries. For fashion lovers, head to Daedalou Street in the capital of Heraklion to find chic designer boutiques, perfume salons, and luxury jewellery stores. If you're a fan of brands like Benetton and Lacoste, this is definitely the area for you.
Another area to note is 1886 Street. Why head to Ikea when you can peruse and purchase designer furniture and home decorations right here in Crete? If you can't find anything you like in these two areas, try Chania for more extravagant clothing and jewellery options. You can find world-class brands like Dior, Gucci, and Seiko for great deals on its offerings.
A recommendation for those who are planning to purchase good quality fur coats and fur products, head to Hersonissos! The choice of stores offering fur and leather outerwear is the widest on the island and it's important to note that bargaining is acceptable, even in the most prestigious stores. You cn find yourself walking away with additional reductions of up to 15% if you play your cards right! So get those bargaining skills prepped and polished!
Save On Luxury Shopping In Greece: Find out more about Crete here
Indulge In A Little (Or A Lot) Of Retail Therapy In Greece!
By now you'd realise that there's simply an infinite number of things buy (and explore) in the beautiful country of Greece — and at reasonable prices and discounts. So if you're feeling a little overwhelmed — don't! There's plenty of adventure to be had, so go forth and create your own. Just remember to make use of your YouTrip Card to lock in those favourable wholesale exchange rates whether you're splurging on luxury goods or chowing down on some baked Moussaka!

Don't have a YouTrip Card yet? Sign up for your complimentary card today with <YTBLOG5> to get FREE S$5 in your account and head over to our YouTrip Perks page for exclusive offers and promotions — we promise you won't regret it. For more great tips and articles like this, join our Telegram (@YouTripSG) and subscribe to our free weekly newsletter here or down below. 
And while you're at it, why not join the conversation with thousands of #YouTroopers in our very own Community Telegram Group @YouTripSquad? Get tips and tricks to everything YouTrip including exclusive invites to exciting events and experiences, & be part of the #YouTripSquad! 💜
Stay safe and happy travels!
Related Articles:
How To Save on Luxury Bags in Europe 2022: Stores, Costs & More
5 Luxury Fashion Hotels You Can Stay: Chanel, Dior & More
BAKALAKI Greek Taverna Review: Authentic Greek Food In Singapore, Tiong Bahru