We're doing our part to stay home and be responsible, but that won't stop us from exploring the world – here's 5 free virtual tours to take from your bed!
From relying on some of the best travel apps to working from home (check out our best telecommuting tips), technology has certainly changed the way we live, work, and even travel.
Although we may not be able to travel during the COVID-19 pandemic, technology is here to save the day again – with virtual tours of course! Here's five free virtual tours you can take from the comfort of your home:
1. The British Museum for Marvelling at Historic Artefacts
The British Museum virtual tour is suitable for: History buffs who want to explore the origins of prized artefacts
The British Museum is famed for containing some of the most mysterious, fascinating items such as the Rosetta Stone and Egyptian Mummies. Their Museum of the World virtual tour is an immersive experience that allows you to explore the world famous facility from the comfort of your own home.
The interactive online tour is presented much like a guitar fret, and allows you to move through time with a simple click of the up and down arrows on your keyboard.
Different coloured dots indicate different categories, such as art and design or religion and belief. If you don't feel like reading the descriptions on each artefact, most of the exhibits come with an audio description as well!
2. Musee d'Orsay for a Collection of the Finest European Art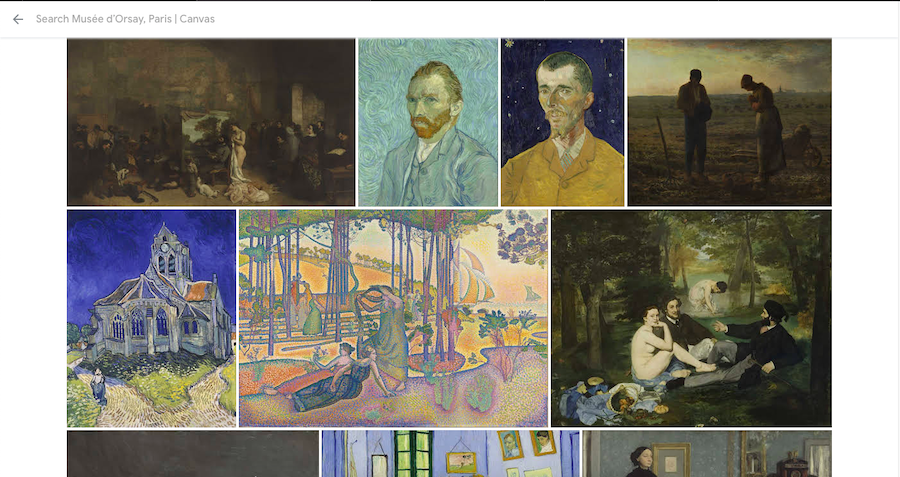 The Musee d'Orsay virtual tour is suitable for: Couples who want to go on a romantic date night
Though we may not be able to travel to France, there's still a way to appreciate French culture. When it comes to European art, the Musee d'Orsay Museum (physically located by the Seine in Paris) is one of the best virtual tours for those of us looking to marvel at classic art.
The museum carries a range of works, from Vincent van Gough's famous self portrait to Alexandre Cabanel's "The Birth of Venus". If you're looking for a great, artsy date idea while continuing with social distancing, this virtual tour is for you!
3. Yellowstone National Park for Virtual Outdoor Hikes
The Yellowstone National Park virtual tour is suitable for: Outdoor junkies who miss the sounds and sights of grand nature
While we're being responsible and staying away from those outside our household, you can still explore one of the most famous (and undoubtedly beautiful) parks in North America: Yellowstone National Park.
Take a gander around the Mammoth Hot Springs, or delve into the Grand Canyon of Yellowstone. The website also hosts an array of information regarding the majestic natural structures you can tour virtually – so you can get a little geography lesson too.
4. The J Paul Getty Museum for an Art Trip Through Time
The J Paul Getty Museum is suitable for: Art buffs who love a range of art from various periods in history

The J Paul Getty Museum in LA functions as an art time capsule – think along the lines of Raphael, Claude Monet, Auguste Renoir, and Vincent van Gough. While visiting California may be out of reach at the moment, this fantastic museum doesn't have to be.
Take this opportunity to enjoy the iconic work of Raphael, famed for his work during the Renaissance era, or indulge in Renoir's whimsical afternoons in French high society, captured on canvas.
5. The National Museum of Natural History for Appreciating Mother Earth

The National Museum of Natural History is suitable for: Animal and natural history enthusiasts (and their cooped up kids!)
If you (or your kids) are bigger fans of animals than you are of art, rejoice! The National Museum of Natural History offers a virtual tour of their renowned spaces.
The collection of museums has a large range of exhibits – from long extinct dinosaurs to geodes and gems from deep in the earth. The high resolution photos mean that you can also zoom in to read the information in the exhibit, if you feel so inclined.
Now that you've got a bunch of different virtual tours to go on, you haven't got any excuse to keep watching the same Netflix shows over and over again. Just because we're staying home doesn't mean we have to stay stagnant!
Read: 4 Haunted Hotels in Asia & Their Horror Stories
Read: 7 Reddit Rabbit Holes to Hop Into and Lose Yourself
Read: Restaurant & Alcohol Delivery: A Fancy Home Experience
Read: A Beginner's Guide to Cruelty-Free & Animal Testing
Read: Work From Home: 7 Tips to Improve Telecommuting
Enjoy a travel experience with no fees worldwide!