Universal Beijing Resort is set to open in May 2021 and Universal Studios Beijing will be the largest Universal Studios theme park in the world!
Universal Studios Beijing, part of Universal Beijing Resort, will be the fifth Universal Studios theme park and also the largest in the world.
Commonly referred to as Universal Beijing, the 160-hectare resort and theme park will be eight times the size of Universal Studios Singapore (USS)… 😱 EIGHT TIMES!
This is why they also have hotel accommodations, because it's unlikely that we can visit every attraction in the theme park within a day.
Despite the coronavirus pandemic, the construction of Universal Beijing Resort is still on schedule and it's set to open in May 2021. Hopefully we don't have to wait until 2023 to fly again and we can add this highly-anticipated theme park to our Beijing travel itinerary!
What Attractions Can I Expect at Universal Beijing Resort?
Apart from the fact that it's eight times the size of USS and will be the largest Universal Studios theme park in the world, Universal Beijing Resort will also have the first dedicated area for Kung Fu Panda!
1. Land of Awesomeness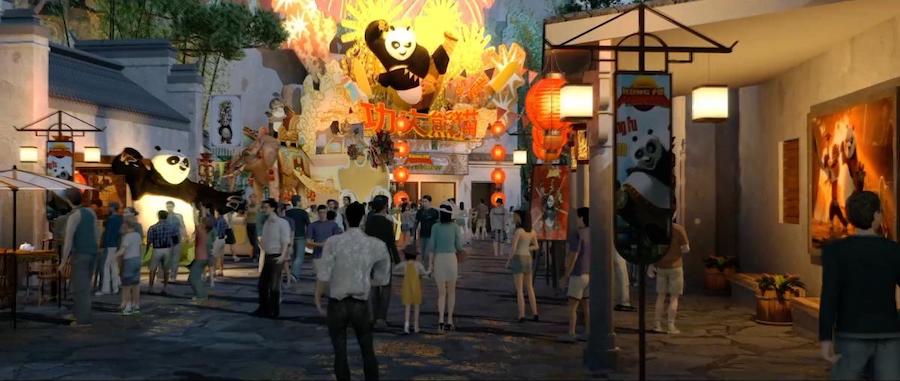 In a tribute to the rich history and culture of China, the Kung Fu Panda themed land will feature dining and attractions. You'll finally get to visit the Jade Palace, Panda Village, and the Peach Tree of Heavenly Wisdom. So make sure you spend your time polishing up your kung fu skills for some butt-kicking photos!
2. Wizarding World of Harry Potter
Grab a butter beer at Hogsmeade in the Wizarding World of Harry Potter, and enjoy pretending you're a wizard or witch! Unlike the ones in Universal Studios Florida or Universal Studios Japan, it's expected to be primarily Hogsmeade Village.
3. Minion Land
Universal Studios Beijing will also host Minion Land; where you can indulge in all the Despicable Me cuteness that your heart desires! Perfect for young families with kids, you'll be able to interact with characters from the film while in Minion Land.
4. WaterWorld
You might be familiar with WaterWorld from Universal Studios Singapore. This is an action movie starring 90's heartthrob Kevin Costner. It's speculated that the key attraction at the WaterWorld section will be a stunt show, featuring the same iconic water stunts performed in its namesake movie. While you may not catch Kevin Costner there, it seems like it would still be worth a visit.
5. Jurassic World: Isla Nublar
You can also look forward to exploring Isla Nublar: the Jurassic Park area that will even feature free roaming dinosaurs. I'm pretty sure it's going to be mind-blowing whether you're six or 60!
6. Transformers: Metrobase
If you're not one for prehistoric reptiles, you could spend your time at the Transformers-themed land instead… and it looks like we're in for an actual Transformers roller coaster ride!
7. Hollywood
Of course, what would embody the spirit of movie magic better than Hollywood Boulevard? A staple at every Universal Studios, this area brings you behind the scenes and exposes you to all the awe-inspiring movie magic. Another Hollywood classic, Mel's Drive-In of American Graffiti fame, will also be serving up American grub.
Where Can I Stay While I Visit Universal Beijing Resort?
You've got two options when it comes to hotels within Universal Beijing Resort. Both hotels are operated by Kempinski Hotels group, well known for their chic hotels and serviced apartments.
1. Universal Studios Grand Hotel
One of which is the Universal Studios Grand Hotel, the first Universal-themed hotel to date. They'll be taking the glitz and glam of Hollywood's golden age and bringing it into the present, with a more modern take on the opulence and grandeur associated with that time.
2. NUO Resort
The other option is the NUO Resort – if you're a bigger fan of Asian living spaces, this should be for you. Modelled after the royal gardens in China when emperors still reigned, this luxurious resort is sure to make you feel at one with nature. You'll get the best of both worlds since you'll be within walking distance of the theme park!
Begone, Miss Rona!
Now this huge theme park is certainly something to look forward to once this COVID-19 hullabaloo has passed. Also, while planning for your Beijing itinerary, don't forget to add YouTrip card to your belongings checklist so that you can take advantage of YouTrip's Wholesale Exchange Rates and enjoy cost savings on your Universal Beijing Resort souvenirs!
All photos belong to Universal Beijing Resort
Related Articles
How I Booked a Ghost Flight to China
Beijing Travel Guide: 6 Best Historic Sites You Must Visit
Where to Stay in Beijing: Guide to 4 Best Areas in Beijing