Planning a trip to Beijing but not sure where to stay? Fret not, here's a guide to the four best areas and neighbourhoods in Beijing for the ultimate travel experience in China!
Part #1: Beijing Food Guide – Which Best Restaurants to Eat?
Part #2: Beijing Area Guide – Which Area to Stay in Beijing?
Part #3: Beijing Travel Guide – Which Historic Sites to Visit?
Part #4: Beijing Itinerary Guide – 4D3N in Beijing
Part #5: Beijing Hotel Promotions List
Beijing is prosperous city brimming with a multitude of different experiences and places to be explored, which can be overwhelming to plan for without a little help. Fortunately, we've narrowed down some of the best areas to stay in Beijing to get you started!
From neighbourhoods filled with traditional alleyways to upscale dining and shopping experiences, here's a guide to the four best areas and neighbourhoods to stay in Beijing:
1. Wangfujing: For the shopaholics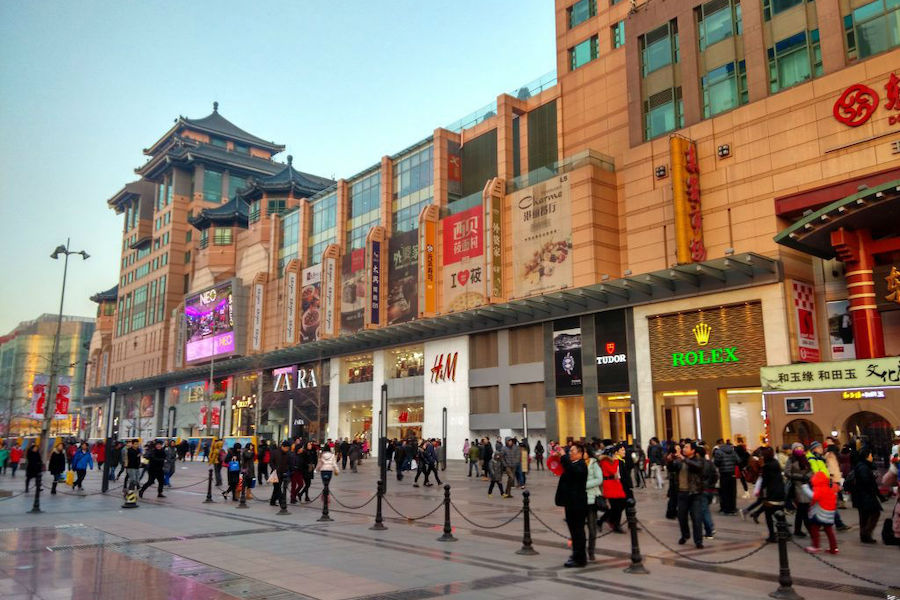 Wangfujing is Beijing's busiest and most popular shopping district – perfect for your shopaholic nature. The bustling shopping belt of Wangfujing houses several of Beijing's biggest shopping malls like the Beijing Department Store and The Malls at Oriental Plaza, amongst many other luxury boutiques, restaurants, and eateries.
Wangfujing is also known for their exotic plethora of street snacks available at the Wangfujing Snack Street and night markets. Get your hands on skewered scorpions and other insects if you dare! For those who prefer milder options, you can heave a sigh of relief with other delicious snacks like candied fruits and rice cakes.
The convenience of staying at Beijing's top shopping district comes at a price, but you can be sure to receive excellent hospitality in Wangfujing!
Where to stay in Wangfujing?
| | |
| --- | --- |
| Hotel name: | The PuXuan Hotel and Spa |
| Price per room: | ~ SGD $502 |
| Discount available: | 15% + 6% |
| Hotel address: | No.1 WangFuJing Street, Beijing, China, 100006 |
| Nearest subway station: | 8-minute walk to Dongsi Subway Station (Line 5 / 6) |
2. Qianmen: Spectacular sightseeing
Qianmen is the best neighbourhood in Beijing to stay in if you're a culture and history junkie. Known as the heart of Beijing's most iconic historic landmarks such as the Forbidden City and Tiananmen Square, Qianmen is also where modernity meets Old Beijing as lines of shopping and restaurants fill the streets and alleys. Here's a list of the best historic sites in Beijing you shouldn't miss.
Heads up, these historic landmarks can get extremely crowded during national holidays!
Where to stay in Qianmen?
| | |
| --- | --- |
| Hotel name: | The Emperor Tiananmen Beijing |
| Price per room: | ~ SGD $109 |
| Discount available: | 40% + 6% |
| Hotel address: | No.87 Xianyukou Street, Qianmen & Temple of Heaven, Beijing, China, 100051 |
| Nearest subway station: | 10-minute walk to Qianmen Subway Station (Line 2) |
3. Houhai: Travel back in time
Houhai is one of the best neighbourhoods in Beijing to experience the nostalgic spirit of Old Beijing. The lakefront neighbourhood is known for its hutongs (narrow alleyways and residential courtyards) and abundance of indie shops, cafes, and restaurants.
Kick back and relax with some of the district's best bars, restaurants, and live music at the lively Houhai Bar Street! For more dining options, check out the 6 Best Must-Eat Restaurants in Beijing.
Where to stay in Houhai?
Hotel name:

Beijing Traditional View Hotel

Price per room:
~ SGD $78
Discount available:

35% + 6%


Hotel address:
No.33, JuEr Hutong, JiaoDaoKou, Dongcheng District, Back Lakes (Hou Hai), Beijing, China, 100009
Nearest subway station:
14-minute walk to Beixinqiao Subway Station (Line 5)
4. Sanlitun: Urban city & nightlife
Known for its colourful nightlife and shopping, Sanlitun is no doubt the trendiest neighbourhood in Beijing, and one you cannot miss in your Beijing itinerary.
Among its modern high-rise buildings, fine dining places, bars, and night clubs, Sanlitun's myriad of trendy malls are also packed with the latest international and local brands.
If you're looking to mingle with the stylish and chic locals, look no further than Sanlitun!
Where to stay in Sanlitun?
| | |
| --- | --- |
| Hotel name: | Holiday Inn Express Beijing Dongzhimen |
| Price per room: | ~ SGD $117 |
| Discount available: | Seasonal |
| Hotel address: | No. 1 Chunxiu Road, Dongcheng District, Sanlitun Bar St. & Embassy Area, Beijing, China, 100027 |
| Nearest subway station: | 10-minute walk to Dongzhimen Subway Station (Line 2 / 13 / Capital Airport Express) |
If you can't decide on the Beijing neighbourhood you want to stay in, you can always immerse yourself in more than one place. After all, you get to enjoy up to 45% + 6% discount for hotels in Beijing when you pay with your YouTrip card!
Plus, always keep a lookout for the latest flight promotions for the best flight deal to Beijing. Once you're all booked and ready to fly, remember to bring your YouTrip card along to utilise YouTrip's Wholesale Exchange Rates for favourable Chinese Yuan currency exchange rates!
Read: Where to Stay in Seoul: Guide to 5 Best Neighbourhoods
Read:5 Best Luxury Resorts in Bali for a Gorgeous Getaway
Read: Debit Card Overseas Transaction Fees: Comparison Guide
Read: Budget Holiday Plans Gone Wrong
Read: Multi-Currency Accounts vs Wallets vs Cards: FX Fees Comparison
Enjoy a worldwide fees-less travel experience!