Hostels have gained popularity among travellers due to low costs compared to pricey hotels. Here are five hostel pros and cons to help you decide if you should stay in one for your next holiday.
Hostels, sometimes known as backpacker hostels, can start from as low as SGD $10 per night, and it's a cheaper alternative to conventional hotels and Airbnbs. This is why hostels have been a popular choice of accommodation among many tourists, especially for solo travellers.
If it's your first time considering a hostel, you may wonder: Is it safe to stay alone in a hostel? Is it really worth staying in a hostel? Here's a summary of the pros and cons of staying in a hostel to help you decide.
Pros and cons of staying in hostels:
| | |
| --- | --- |
| Pros | Cons |
| Low cost | Less privacy |
| Central location | Noise |
| Convenience | Risk of theft |
| Meet new people | Stay with strangers |
| Luggage storage | Communal bathroom & kitchen |
Pros of Staying in Hostels
Pro #1: Low Cost
Hostels are often much cheaper than conventional hotels and Airbnbs – the average price of hostels range between SGD $15 to SGD $30 per night. Sure, you can utilise some holiday booking hacks or booking coupons to score cheaper hotels, but hostel prices are still generally unbeatable.
Plus, some hostels can even go as low as SGD $10 per night. That price for a roof over your head, a bed to sleep in and a clean shower? That's quite a steal, especially for solo travellers and backpackers!
Pro #2: Central Location
Hostels, especially in Europe where it's popular, are mostly always located within the heart of every city. They are often situated near tourist attractions and public transport lines, which can help you save time and money on commute.
Pro #3: Convenience
Apart from a fairly central location, the amenities in hostels bring a whole lot of convenience as well.
Washing Machines and Dryers
Running out of clean clothes to wear after backpacking for days? Hostels often have laundry rooms, so you can do your laundry (mostly at a small fee).
Kitchen
Another great budget travel hack to save money is to cook your meals in the communal kitchen. You can also store your bedtime snacks in the communal fridge as well, just be sure to label them!
Local Tips
Hostel receptions are a great source of information. Not only do they have great recommendations for attractions in the area, but also useful tips to avoid local tourist scams.
Pro #4: Meet New People
Hostels are filled with travellers from all over the world! Most hostels have common areas such as lounges, game areas, and bars (some even offer free welcome drinks).
With an array of organised activities such as walking tours and pub crawls, hostels are a great place to meet like-minded travellers. Who knows? You might even forge lifelong friendships!
Pro #5: Luggage Storage
Hotels and airbnbs usually only allow check-ins after 2pm, can you imagine dragging your luggage around for the whole morning? That's exhausting.
Most hostels, however, allow you to store your belongings in the luggage room even before you check in and after you check out. This means you can enjoy the benefits of travelling luggage-free!
Cons of Staying in Hostels
Con #1: Noise
Sharing a room with 3 or 5 or even 11 other people, there's bound to be noise. You'll have to deal with other hostel mates going in and out of your dorm room in the wee hours to catch their dawn or red-eye flights.
Sometimes, they could also be returning from a late night party, or just typing noisily on their laptops. Others could be sleep talking or snoring through the night.
Con #2: Less Privacy
Being only entitled to an open bed and a locker, that doesn't leave much room for privacy. It can get quite cramped and you may not be able to get the 'personal space' you want.
Con #3: Risk of Theft
Is it safe to stay in a hostel alone? That's a common question among many travellers. Living in a shared dorm, your valuables can easily be nipped by your dorm mates. Always store your valuables in your lockers or under your pillow when you're sleeping!
Certain hostels also allow you to leave your valuables (such as laptops) with the receptionist when you're out.
Con #4: Stay with Strangers
Sharing a dorm with strangers can be intimidating to first-time hostel stayers, especially if you're travelling solo. Though it may be a little more costly, female travellers can also consider staying in female-only dorms too.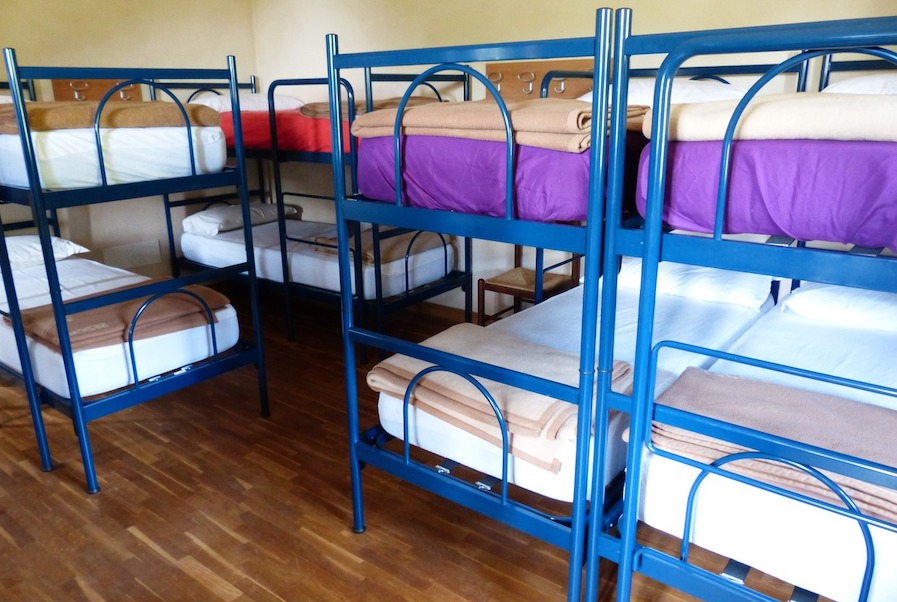 Con #5: Communal Bathroom and Kitchen
Living in a hostel usually means you have to share communal bathrooms and kitchens with a dozen people. This means longer waits for using the toilets and showers.
There will also be a handful of travellers who refuse to clean up after themselves when using the kitchen. This means dirty cups, plates, utensils, which can leave a musty smell in the kitchen.
Hostels are quickly gaining popularity among young travellers because of its low costs and convenience. If you're keen to meet travellers from all walks of life and try out an alternative accommodation, a hostel will be perfect for you! And no matter which types of accommodation you choose, don't forget your essential travel safety tips.
If you're looking for more unique experiences, why not consider staying in a capsule hotel or even a gorgeous villa? For conventional hotel stays, we got you covered with the latest hotel promo codes to help you save on your travels!
Read: Should I Stay in Capsule Hotels? Pros vs Cons
Read: Solo Travel: Top 7 Safety Tips for Travelling Alone
Read: Cheapest Travel Wifi Router Rental in Singapore (2019)
Read: Essential Solo Travel Packing List and Tips
Read: Cheapest Hotels Promotion Sale (2019)
Enjoy a worldwide fees-less travel experience!