You've probably seen this online fashion wholesaler while out and about the web — but how legit is it? We've done the research so you don't have to. Read on for some of our favourite tips and tricks when shopping on SHEIN Singapore!
We've all got our triggers when it comes to shopping online. While mine happens almost every time I scroll through Pinterest — yours could be set off by a Netflix series or a Disney+ movie. Whatever the cause, most outcomes usually play out in the same way: You see an outfit you adore and proceed to string together a bunch of keywords in hopes that Google might somehow fairy-godmother those adjectives into the outfit you saw earlier. Sound familiar? Well, if the above has indeed happened to you before, SHEIN Singapore would probably have been one of the first suggested results on your Google feed. And that's because they not only have a wide range of clothes at super duper cheap prices, the site is also completely in English. Yes, English.
Ultimate SHEIN Singapore Overview:
What Is SHEIN, and Why Are Their Clothes So Cheap?
Initially founded in 2008 as SheInside, the Guangzhou-based e-commerce company eventually reinvented themselves as SHEIN (pronounced she-in) in 2015. They're known for churning out cheap clothes that are extremely on-trend — but they also receive quite a bit of bad press, especially from Western YouTubers, for their reportedly poor delivery timings, customer service, and fit on clothes.
We did some sleuthing and according to The List as well as the brand's 'social responsibility section', SHEIN outsources to keep their items cheap and apparently ethical (however, they don't disclose where vendor facilities are).
How To Shop On SHEIN Singapore?
Just in case you were new to SHEIN, here's a quick roadmap to get you through your first shopping experience — discount codes included!
SHEIN
Discount Codes
👉🏻 S$4 Off First Order = SHESG
👉🏻 Extra 10% Off On App Purchases = ASAPP10
👉🏻 Extra 10% Off On Orders ≥S$60 = SGFW
👉🏻 Extra 15% Off On Orders ≥S$100 = SGFW
👉🏻 Extra 20% Off On Orders ≥S$150 = SGFW
1. Register For An Account
First of all, register for a new account to score S$4 off your first order. It's just easier to sign up before you start rather than get halted when you check out later on.
After finding your item of choice, scroll down for a quick look at the reviews at the bottom of the page. This section might contain real-life pictures and comments to help you make an informed decision.
2. Choose Your Size
A quick hover over each option will show you the waist size, hip size, length as well as thigh measurements of the garment. For a better view, click on 'Size & Fit' where you will get the model's measurements along with the product measurements. This'll help you know if you should size up or down.
3. Choose Your Mode Of Delivery
Scroll through their delivery options to choose the one best suited for you — either Express Shipping (from S$3, free express delivery on orders more than S$80) or Free Standard Shipping. They've also included the estimated date range of delivery for each option. Express Shipping is estimated to take at least a week, whilst Free Standard Shipping would take at least 9 days.
In addition, they've also included quite a detailed segment on materials used for each listing for those who are curious:
4. Check Out!
Once you've added the item to your cart, you may now proceed to fill up all your details plus any promo codes or claim any rewards from the SHEIN points you've collected (if you're new you probably may not have any just yet).
Et voila. You've placed your order and now all you've got to do is wait for your goodies to show up!
4 Tips & Tricks When Shopping On SHEIN Singapore
As mentioned earlier, we did quite a bit of research — here are some words of wisdom we gleaned from the community so you don't make the same mistakes when shopping on SHEIN.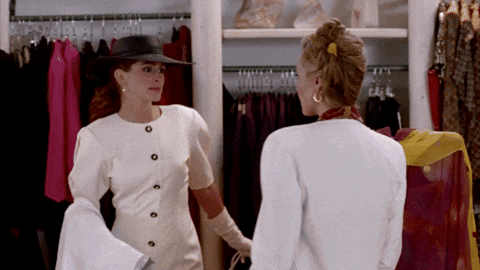 1. Use YouTrip when you shop on SHEIN
If you're still uncertain about shopping on SHEIN Singapore, use your YouTrip card to pay for your shopping! You'll be notified of all payments made on your YouTrip card, with 3D-Secure Authorisation automatically implemented on your transactions. Noticed an unauthorised transaction? Lock your card immediately within your YouTrip app!
2. Read the size charts and stick with their sizing measurements
You might be an XS — but when the size guide tells you to size up to an L because of the measurements, do it. Keep in mind that not all items in each category are consistent in size so be sure to check the measurements for every piece you're planning to put into your cart.
3. Review the reviews
Always look at their reviews. This was probably the most common piece of advice across the board. This would help you squelch worries about quality, iffy materials, sizing and colour in real life. Brownie points for reviews that have actual photos of the item being worn out and about.
4. Keep realistic expectations
Let's be real. You're paying S$4.40 for that top — it's probably not going to last very long or withstand many washes. Thus, many recommend shopping for trendy items on SHEIN and getting your wardrobe staples elsewhere. This means steering clear of jewellery and bags, because they tend to fall apart easily, and going for items where bad fit would not be an issue i.e. loose blouses, skirts, dresses, cardigans and chunky sweaters.
⚔️ SHEIN Singapore vs Taobao Singapore: AT A GLANCE
At this point, you're probably thinking that SHEIN sounds like another really famous e-commerce giant from China — and you're right, it's Taobao! So we thought, why not help put all the cards on the table and compare some similar items while we're at it?
SHEIN
TAOBAO
Ease of Use
✅ It's all in English and everything you need is all right there.

❌ They are mostly a fashion website catered to women's fashion. While they have a beauty and home category, their selections aren't as vast as Taobao. They also don't sell furniture.
❌ Difficult for non-mandarin-reading users. Lucky for you, we've got all the guides you need to navigate their website.

✅ Taobao has a lot more stuff for sure. Once you've learnt how to navigate the website, the site's your oyster.
Delivery
From 7-9 days
From 5-27 days
Prices
Super cheap
E.g. An apron costs S$4.25
Super duper cheap
E.g. A similar-looking apron costs CNY $8.80 (~S$1.84)
Customer Support
❌ There are many scathing reviews about their poor customer service and refusal to refund — thus we recommend going via the credit card route so you can take it up with the bank just in case. Otherwise, they have a section on their website with a comprehensive FAQ and 'Help' section.
❌ It's difficult to reach Customer Support due to language barriers, plus the English online forms and email support have been discontinued. The only way to contact Taobao is via the phone (+65 3163 3159) during office hours (Monday-Sunday,9:00-18:00 ) or via social media.
Quality of products
SHEIN is made up of various vendors, thus the quality of each item differs. That's why it's extra important to read the reviews before purchasing.
Taobao is made up of various vendors, thus the quality of each item differs. That's why it's extra important to read the reviews before purchasing.
SHEIN Singapore vs Taobao Singapore: Product Pricing Comparison
1. Fruit-logo Apron
Left: Taobao (from S$1.84), Right: SHEIN (from S$4.25)
While it was cheaper to get on Taobao, that specific Taobao item had zero reviews. On the other hand, there were 130 reviews on SHEIN with picture-proof as well. It was also very straightforward because everything was in English.
Buy Taobao Apron here and SHEIN Apron here.
2. Ruched Summer Sandals
Left: Taobao (from S$2.08), Right: SHEIN (from S$13.75)
While the Taobao version may not look as editorial and well-photographed as SHEIN's, it does cost about a sixth of its price.
Buy Taobao Sandals here and SHEIN Sandals here.
3. Spherical Tea Filter
Left: Taobao (from S$1.45), Right: SHEIN (from S$3)
Due to SHEIN selling one kind of each specific item, they tend to get a lot more reviews. This specific tea filter has garnered over 4600 reviews. On the other hand, Taobao has many vendors selling the same item and so each listing might not have many reviews. As always, it depends on whether you'd rather purchase an item based on its price or customer reviews.
Buy Taobao Spherical Tea Filter here and SHEIN Spherical Tea Filter here.
So, Should You Buy From SHEIN Singapore or Taobao Singapore?
It was easy to search for the products I wanted on SHEIN Singapore despite the vast amount of stuff they've got on their site. Plus, I didn't need to get hand-held in the same way I did when using Taobao because of the language barrier and, well, general clutter of the site. SHEIN felt a lot more well-organised in comparison.
If you're willing to trade some more cash for ease of use — then SHEIN Singapore might be for you. If you're still a Taobao stan — we've got the ultimate Taobao shopping guide for you too.
Keep Calm & SHEIN On
Now that you're more familiar with the ins and outs of SHEIN Singapore, you're ready to take on this new e-commerce wonderland. Just remember to check out with your YouTrip card to take advantage of sweet Wholesale Exchange Rates.
If you still haven't gotten your YouTrip card yet, don't miss out. Use promo code <BLOG5> to sign up and get up to S$5 off your next Taobao purchase with YouTrip!
For more great tips and guides like this, join our Telegram Channel (@YouTripSG) or subscribe to our free weekly newsletter here or down below!
Related Articles
Taobao Shopping: Taobao vs ezbuy Price & Shipping Cost
Best Bridesmaids & Wedding Guest Dresses Under S$40 On SHEIN Singapore
How to Buy From Taobao: 2021 Step-by-Step Shopping Guide
*All currency conversion rates are accurate to nearest 10 cents on 22 July 2021 SGT 10:00. Top banner image: Fashion Potluck