How do I save money on ASOS? Here's a step-by-step guide to change the ASOS currency to GBP and you'll be surprised at the price difference and savings!
Ah, ASOS. The place with our well-loved brands like Nike, Adidas, and Topshop, including their in-house apparel. The frequent sales are irresistible and we'll always think that we're snagging a good deal – but even with site-wide discounts, do you know that most of us are still overpaying for ASOS items?
This is because while it may seem convenient that ASOS offers payment in Singapore Dollars (SGD), we're actually overpaying for this "convenience". Here's how you can save even more money on ASOS by paying in Great British Pounds (GBP) instead!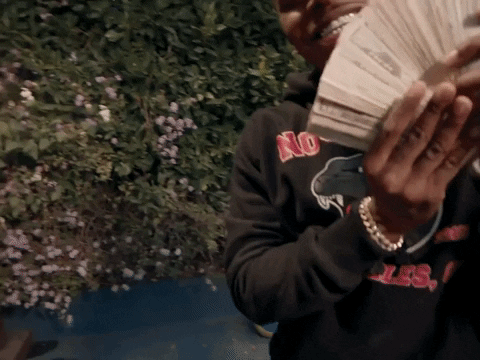 How to Pay in GBP on ASOS
To change the currency you're paying in, select the Singapore flag in the top right corner. Then, click on the "SGD" option and select "GBP" from the dropdown menu. Once that's done, select "update preferences" and you're good to go!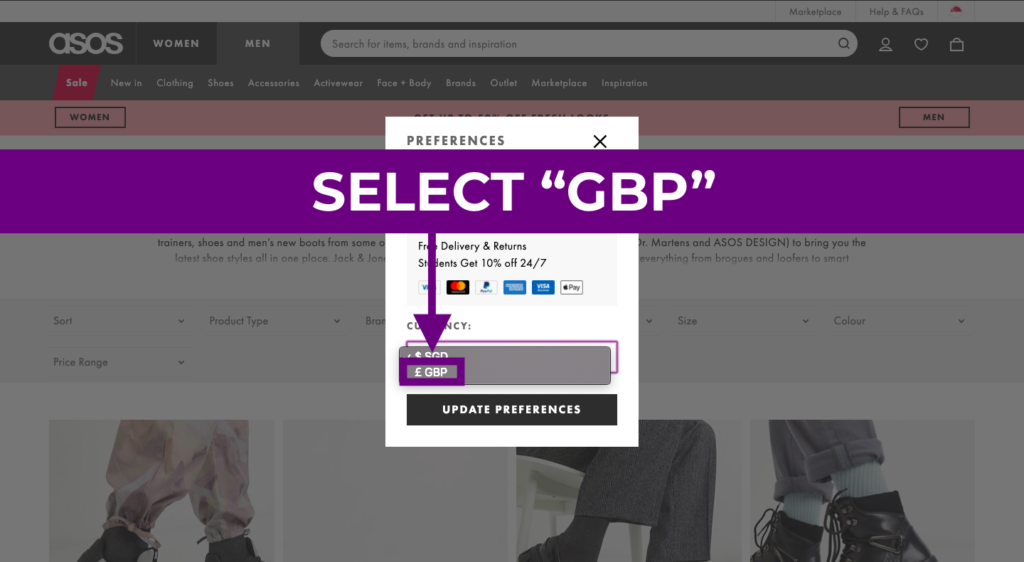 Is ASOS Really Cheaper in GBP?
Yes! The savings vary between items and of course, the more you spend, the more you save!
If you're shopping on ASOS, you can also key in the amount in GBP into your YouTrip app to check the live GBP to SGD exchange rates, and you'll see exactly how much you'll be able to save.
1. Fila Co-Ord
The Fila Co-Ord is bringing those matching 90's sets back into style. While it's S$297.98 in SGD, it's only ~S$281 when converted from GBP – that's ~S$16.98 cheaper!
| | | |
| --- | --- | --- |
| SGD Price | GBP Price | Savings |
| S$297.98 | £160.00 (~S$281.00) | ~S$16.98 |
2. New Look Boots
Sale items are also cheaper in GBP too! These New Look Boots go for S$44.37 in SGD, but only ~S$42.28 after conversion from GBP. That's ~S$2.09 cheaper!
| | | |
| --- | --- | --- |
| SGD Price | GBP Price | Savings |
| S$44.37 | £23.95 (~S$42.28) | ~S$2.09 |
3. Nike Air Force 1
Sneakerheads where ya at? These classic Nike Air Force 1s are S$166.99 in SGD, but only ~S$158.32 when converted from GBP – that's cheaper by ~S$8.11. Who doesn't love savings?
| | | |
| --- | --- | --- |
| SGD Price | GBP Price | Savings |
| S$166.99 | £90.00 (~S$158.88) | ~S$8.11 |
Why is ASOS Cheaper in GBP?
Well, we can't say for certain. It could be that the ASOS foreign currency exchange rates aren't all that great – or, it could have something to do with the fact that ASOS is based in the United Kingdom.
Nonetheless, it's great that ASOS is cheaper in GBP and we can snag even bigger savings. When paying in GBP on ASOS, remember to checkout with your YouTrip card to take advantage of the Wholesale Exchange Rates! Don't forget to check ASOS Promo Code Singapore for promo codes too!
🎉 Bonus: S$5 ShopBack Cashback
Stack your ASOS purchases with ShopBack for 3.5% cashback! We've also got you covered with a S$5 sign-up bonus here. 😎
Read: Cheapest Animal Crossing: New Horizons Guide
Read: Comgateway Guide: How to Ship From USA to Singapore
Read: How to Ship From Taobao Shipping Guide
Read: How to Buy From Taobao Shopping Guide
Read: Cheaper With YouTrip: 7 Digital Subscriptions & Games
Enjoy overseas payment with no fees worldwide!