Whether it's more than a few hundred or a thousand years old, here's a list of the world's oldest hotels that you can stay in!
1. Nishiyama Onsen Keiunkan, Yamanashi, Japan
Opening its doors to guests in 705 AD, Nishiyama Onsen Keiunkan currently holds the Guinness World Record as the oldest hotel in the world. That's over 1,300 years ago! For reference, the hotel started operations even before Kyoto was established as Japan's capital city in 794 AD.
To this day, the hotel is still being run by the same family following 52 generations. Despite being the oldest hotel in the world, Nishiyama Onsen Keiunkan is still as good as new, with top condition traditional ryokans, first-rate service, and undeniable natural hot springs for the ultimate unwinding!
Price: From SGD $429
Address: Japan, 〒409-2702 Yamanashi, Minamikoma District, Hayakawa, 西山温泉
2. The Old Bell Hotel, Malmesbury, England
Said to be the oldest hotel in England, The Old Bell Hotel in Malmesbury dates all the way back to 1220, almost eight centuries ago!
Today, the hotel still carries much of its olden Edwardian charm in its architecture and distinctive ashlar fire hood (believed to be the oldest kind of domestic fireplace!). The Old Bell Hotel in Malmesbury is also now known for their in house restaurant serving contemporary British cuisine that's bound to leave you pining for more.
Price: From SGD $175
Address: Abbey Row, Malmesbury SN16 0BW, United Kingdom
3. The Plaza Hotel, New York City, USA
Offering exceptional luxury accommodation and services since 1902, The Plaza Hotel is nestled in the heart of Manhattan and it's undeniably one of the most iconic historic hotels in the world.
Built more than a hundred years ago, the renowned hotel has made appearances in countless movies, television shows and even cartoons, and has hosted several influential guests including The Beatles. You can definitely expect to feel (and be treated) like a superstar in this opulent hotel.
Price: From SGD $1,131
Address: Fifth Avenue at Central Park South, Midtown West, New York (NY), United States, 1001
4. Taj Lake Palace, Udaipur, India
Said to be constructed as early as 1743, the Taj Lake Palace in Udaipur used to be a royal summer palace. Sitting on the stunning Lake Pichola, the Taj Lake Palace is now a lush hotel filled with every bit of utmost opulence and majesty (fitting with its origin!).
The regal hotel boasts second to none suites, services, and amenities like restaurants and bars. Close to 300 years old, the Taj Lake Palace also offers unparalleled spa experiences. Octopussy (1983), the thirteenth James Bond film instalment, was also filmed here.
Price: From SGD $1,001
Address: Pichola, Udaipur, Rajasthan 313001, India
5. Willard InterContinental Hotel, Washington D.C., USA
With a history dating all the way back to 1816 over 200 years ago, the Willard InterContinental Hotel in Washington is one of the most significant luxury hotels in the world.
Besides numerous international celebrities checking in, the Willard InterContinental Hotel has also seen some of the most prominent historical guests such as Abraham Lincoln and Martin Luther King Jr. Did you know? The famous "I Have a Dream" speech was also penned in this very hotel!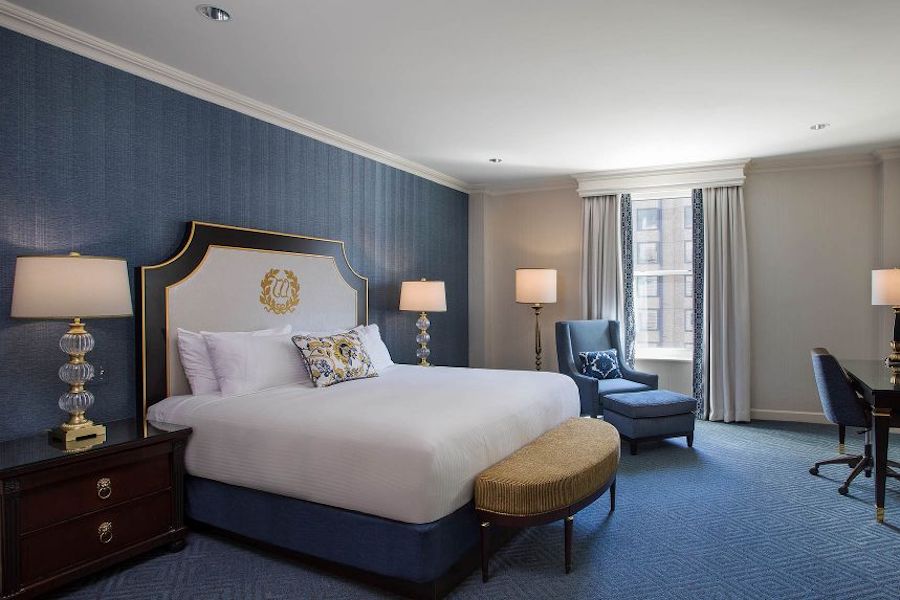 Today, the Willard InterContinental Hotel continues to receive praise and prestige for its world-class suites and restaurants. In addition to assisting personal in-room services like hair treatments and nail services, the hotel also has a multi-lingual concierge team that can help you secure tickets to DC attractions, activities and select events.
Price: From SGD $267
Address: 1401 Pennsylvania Ave NW, Washington, DC 20004, United States
Ready for an unforgettable stay in some of these timeless hotels? Don't forget to bring your YouTrip card on your trip to utilise YouTrip's Wholesale Exchange Rates for favourable currency exchange rates!
Read: 4 Haunted Hotels in Asia & Their Horror Stories
Read: 5 Luxury Fashion Hotels You Can Stay: Chanel, Dior & More
Read: 11 Rare Passport Stamps You May Never Get
Read: Muji Hotel All You Need to Know: 9 Room Types, Prices and More
Read: Should I Stay in a Hostel for My Holiday? Hostels Pros vs Cons
Enjoy a worldwide fees-less travel experience!