Satisfy your Thai boat noodle cravings at Boat Noodle in Johor Bahru's (JB) Mid Valley Southkey Mall with just S$0.70 for a delicious bowl!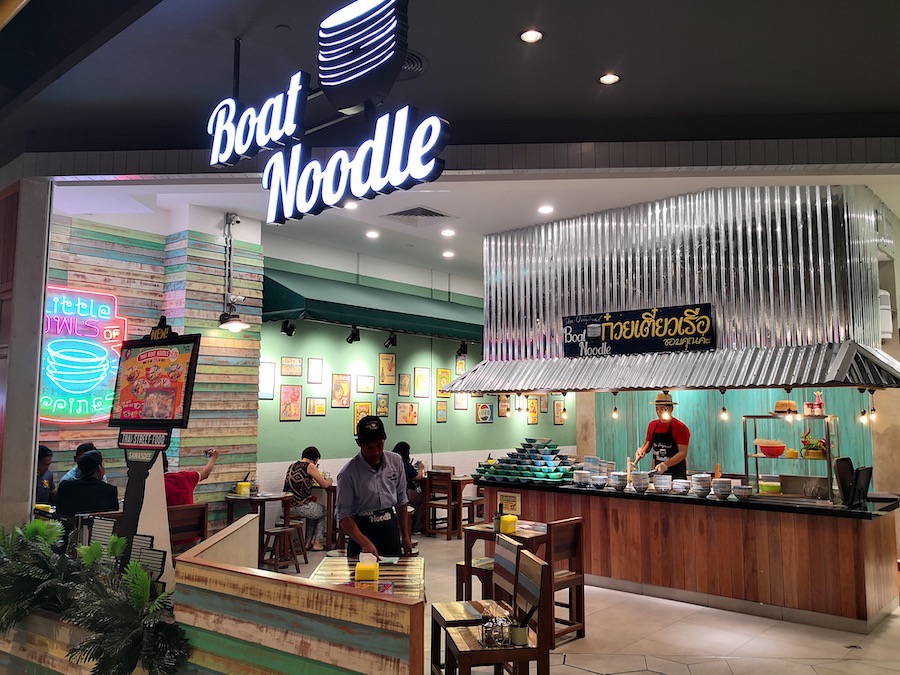 Thai boat noodle lovers you're in for a treat. Why settle for SGD $1.50 or SGD $1 a bowl in Singapore when you can get equally slurp worthy Thai boat noodles across the causeway? Here's a Thai boat noodle review of Boat Noodle in Mid Valley Southkey Mall:
Boat Noodle Menu
There's five types of flavours to choose from, and for each flavour we had to choose between beef or chicken, as well as rice noodle or springy noodle. That's 20 variations in total!
There were also other Thai dishes like Pad Thai, fried rice, and a variety of stir-fry available on the menu.
Boat Noodle Price
| | | |
| --- | --- | --- |
| Menu | Price (MYR) | Approx. Price (SGD) |
| Thai boat noodle (any) | RM 2.20 | $0.70 |
Boat Noodle Review
If you're fan of smooth, translucent noodles, opt for the Rice Noodle. And if you prefer the texture of chewy instant noodles, choose the Springy Noodle instead.
Our first taste of the Royal Pathumthani got us curious – what's this flavour? The soup was sweet, but refreshing with a little tangy taste. The aroma of garlic and herbs gradually set in, and we realised it tasted a lot like herbal Bak Kut Teh, but with zest!
Royal Pathumthani: 4.5/5
Spice level: –
Kanom Jeen, also known as kanom chin, are fermented rice noodles that's usually served with a variety of curries. The Kanom Jeen flavour in Boat Noodle tasted like a creamy version of tom yum, with a little heat in the throat and at the tip of our tongue, causing a bit of numbness. The lemongrass taste was quite prominent as well, so if you're looking for something spicy yet refreshing, this one's for you!
Kanom Jeen: 5/5
Spice level: 🔥🔥
Ayutthaya 2.0 was the most interesting flavour, and it was like nothing we've had before. Despite its creamy consistency, it actually tasted like a mild herbal soup, and a distinct peanut fragrance added a natural sweetness to it. We wished we could appreciate this unique flavour more, but it was just too spicy for us to handle!
Ayutthaya 2.0: 4.5/5
Spice level: 🔥🔥🔥
The only dry boat noodle on the menu is Dry Tom Yum, and it was also the only flavour we were disappointed with. The sauce tasted more like bottled sweet Thai chilli sauce and there wasn't any tom yum flavour at all.
Dry Tom Yum: 1/5
Spice level: 🔥🔥
Lastly, we had the Sweet Kuey Chap flavour and as the name suggests, it's nothing more than a sweeter version of kuey chap's aromatic soy sauce broth. Still, the flavour was enjoyable and easy on the palate, especially after all the rich, spicy flavours of other Thai boat noodles.
Sweet Kuey Chap: 3/5
Spice level: –
Will we return to Boat Noodle?
Yes, the Thai boat noodles in Boat Noodle is perfect for those feeling peckish after an afternoon of shopping in Mid Valley Southkey. Cheaper snacks in Marks & Spencer, cheaper sneakers in JD Sports, and cheaper skincare in Sephora – the mall's a great bargain hunt!
Back to the Thai boat noodles: Don't spend too much time deciding between the beef or chicken variation, because it's almost impossible to taste the tiny pieces of minced meat. Just choose the soup and noodle types you want and go random with chicken or beef.
When footing the bill, remember to pay in Malaysian Ringgit (MYR) with your YouTrip card to enjoy favourable rates with YouTrip's Wholesale Exchange Rates!
Boat Noodle
Operating hours: 10am to 10pm daily
Address: LG-013, Mid Valley Southkey, No. 1, Persiaran Southkey 1, Kota Southkey, 80150 Johor Bahru, Johor, Malaysia
Read: JB: How to Escape the Crowd (Weekend Itinerary Guide)
Read: Tokyo Secret JB Review: Dry Cheese Tarts & Shoddy Food
Read: DIN by Din Tai Fung JB Review: Halal Xiao Long Bao
Read: Meng Meng Roasted Duck (阿明帝皇鸭) JB Review
Read: Marks & Spencer Singapore vs JB: Which is Cheaper?
Enjoy a worldwide fees-less travel experience!