Don't limit yourself to the capital city of Taiwan! Jazz up your Taipei itinerary with these 6 day trips from Taipei and discover the best of Taiwan.
Part #1: Taipei Food Guide – Which Best Restaurants to Eat?
Part #2: Taipei District Guide – Which District to Stay in Taipei?
Part #3: Taiwan Travel Guide – Which Day Trips from Taipei to Take?
Part #4: Taipei Itinerary Guide – 4D3N in Taipei
Part #5: Taiwan Hotel Promotions List
Taipei is a magnificent city, but Taiwan's splendour isn't limited to just its capital city! Here are 6 day trips from Taipei you should take to jazz up your Taipei itinerary:
1. Jiufen
One of the most popular day trips from Taipei is none other than Jiufen, an old mountain town that inspired Studio Ghibli's multi award-winning anime film Spirited Away. Located just east of Taipei, Jiufen is characterised by its traditional alleyways that lit up at night with oriental lanterns and lights.
From its straight-out-of-a-fairytale views to traditional teahouses and lanes after lanes of street snacks like chewy taro balls and rolled peanut ice cream, Jiufen is certainly one of the best day trips from Taipei!
How to Get There: The most popular way to get to Jiufen from Taipei is by public transport. From Taipei Main Station, simply take a Taiwan Railways Administration (TRA) train towards Rui Fang Station. Alight at Rui Fang Station and head towards the west exit. Upon exiting the station, turn left and walk until you see a bus station (next to a police station) where you can take the direct bus to Jiufen. There are signboards to guide you along the way but if you get lost, don't hesitate to ask for instructions for the locals! The entire journey from Taipei takes about an hour.
2. Beitou
Just north of Taipei, Beitou is another popular day trip destination from Taipei. Known for its variety of hot springs and surrounding greenery, Beitou is definitely the ideal place to visit for a day of relaxation away from the bustle of Taipei city.
Immerse yourself in the public hot springs of Beitou and soak your stress away! If you prefer a quieter retreat, there's plenty of resorts that provide private hot springs too.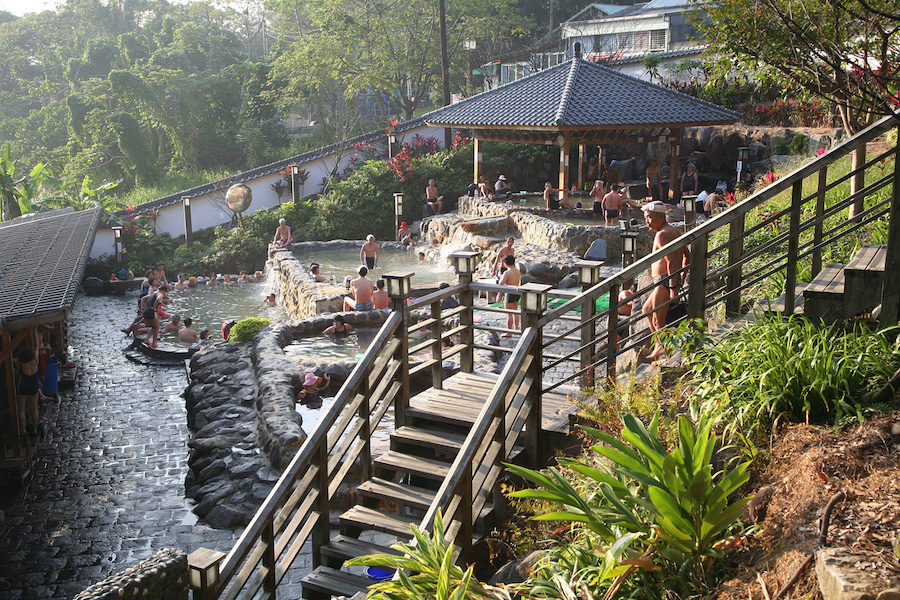 How to Get There: Take the Taipei Metro to Beitou Station on the Red Lin and transfer to the Pink Line heading towards Xinbeitou Station. Upon alighting at Xinbeitou Station, you can set off on foot to your preferred attractions in Beitou! The journey from Taipei takes about half an hour.
3. Tamsui
Sitting on the coastline of Taiwan, Tamsui is a small seaside district town that's popular among locals and tourists. Filled with spectacular sea views, traditional shops, restaurants, and lots of street food, Tamsui makes for one of the best day trips from Taipei too.
Stroll along the riverfront Tamsui Old Street, and feast on Tamsui's wide selection of street snacks! Don't miss Tamsui's specialty street snack ah-gei, a fried marinated beancurd that's stuffed with glass noodles.
Oh, and definitely stay for Tamsui's mesmerising sunset – it's said to be the most beautiful in all of Taiwan!
How to Get There: Take the red line on the metro and alight at the last stop—Tamsui Station. The journey takes around 40 minutes.
4. Sun Moon Lake
Located near Taichung, a day trip to Sun Moon Lake, the biggest lake in Taiwan, cannot be missed. It requires a longer travelling time compared to other day trips from Taipei, but trust me, the stunning views are worth it!
Located at the foot of a mountain range, Sun Moon Lake offers a view straight out of a chinese painting. You can opt to admire the scenic settings on foot via the hiking trails around the lake or simply just hop on a leisurely ferry ride along the river.
Once you're done taking in the unparalleled views of Sun Moon Lake, head over to the east side for some fun at the Formosan Aboriginal Culture Village, an amusement park themed around aboriginal cultures.
How to Get There: From Taipei Main Station, take a one-hour Taiwan High Speed Rail (TSR) train to Tai Chung Station. Upon alighting, follow the signboards for buses heading towards Sun Moon Lake. Board the Nantou bus towards Sun Moon Lake and you'll arrive at your destination in about 2 hours.
If you're looking for a little more than a day trip, you can always to book a hotel and stay to explore Taichung city for a couple of days. Remember to book your accommodation through Agoda with your YouTrip card to enjoy up to 45% + 6% off hotels in Taiwan!
Here's a couple of popular hotels in Taichung:
5. Pingxi
Famous for their spectacular sky lanterns, Pingxi is a small town filled with nostalgic souvenir shops, street snacks, and historical houses for you to discover on a day trip from Taipei.
While filling your tummies and shopping bags with delicious street snacks and nostalgic mementos from the Pingxi Old Street, be sure to write your well wishes on a sky lantern. Release it and watch it float over the horizon with hundreds of sky lanterns to truly appreciate the mesmerising spirit of Pingxi!
How to Get There: From Taipei Main Station, take a Taiwan Railways Administration (TRA) train to Rui Fang Station. Switch over to the Ping Xi Line and alight at Ping Xi Station. The journey takes less than an hour.
6. Taroko National Park
Brimming with Taiwan's beautiful flora and fauna, including the majestic Liwu River, Taroko National Park is possibly the best place for a hiking day in Taiwan!
Taroko National Park also houses the picturesque Eternal Spring Shrine – an ornate cliffside shrine sitting adjacent to a majestic waterfall – one of Taiwan's most popular tourist attractions.
Located in Hualien, the Taroko National Park is also one of the longer day trips from Taipei⁠, but it's definitely worthwhile for the spectacular sights and trails!
How to Get There: From Taipei Main Station, hop on a Taiwan Railways Administration (TRA) train towards Xincheng Train Station. Upon alighting, hop on bus 302 to Taroko Gorge. The entire journey takes around 3 hours.
Ready to be spirited away in the best day trips from Taipei? Don't forget to book your stays with your YouTrip card to enjoy up to 45% + 6% off hotels in Taiwan. And also, remember to bring your YouTrip card along to utilise YouTrip's Wholesale Exchange Rates for favourable New Taiwan Dollar (NTD) currency exchange rates!

Read: JB: How to Escape the Crowd (Weekend Itinerary Guide)
Read: 8 Abandoned Places in South Korea Turned Instagram Hotspots
Read: 5D4N Seoul Itinerary Guide: Things to Do & Places to Visit
Read: 4D3N Beijing Itinerary Guide: Things to Do in Beijing
Read: Krabi 4D3N Itinerary Guide: Weekend Getaway
Enjoy a worldwide fees-less travel experience!