Wondering what to look for in an internship? Here are 5 key considerations and takeaways from my personal internship experience at YouTrip.
Hello, Rachelle here! 🙋 I've completed my internship with YouTrip in the Marketing department. You might know me from the story of how my France holiday was almost ruined, or perhaps the best guide that helps you pick the cheapest travel wifi router in Singapore.
I'm currently a Year 4 student majoring in Communication Studies at Nanyang Technological University (NTU). I recently came back from my University Exchange (where I conquered 14 countries in 4 months) and I've been with YouTrip for three months.
What makes a good internship? As curated as it may sound, my internship stint with YouTrip has been nothing short of amazing. I've opened my eyes to a new industry, learned so much and of course, been given the chance to work with the best people. 💜
When considering an internship, a few questions come to mind:
"What should you look for in an internship?"
"What do you hope to gain from an internship?"
"What do interns usually do?" 🤔🤔🤔
I'll do my best to answer these questions based on my own experience at YouTrip!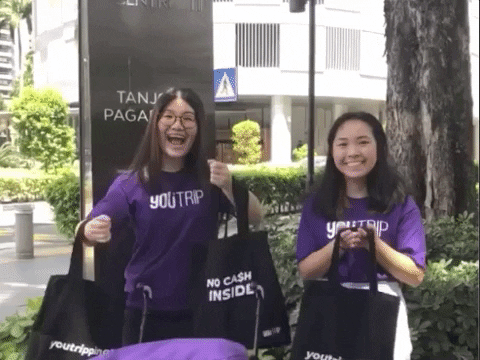 What should you look for in an internship?
1. Choosing the right job scope
Of course, the type of job scope varies based on your course of study, interests, and potential career paths.
As a communications major, marketing wasn't too foreign, but it was far from being my niche. I was given the chance to try out the different aspects of Marketing: Social Media, Branding, and Editorial.
My main job scope included managing social media channels, brainstorming for campaigns and contest ideas (check out my clues from the YouTripIt Instead Campaign and the collection of Budget Travel Horror Stories 👻), including writing content pieces for our YouTrip blog of course!
2. Understanding the industry
Think about your interests, or if you're practical, consider an industry which is booming or has a lot of potential for growth. The industry may or may not align with your course of study, so there's always room for growth of knowledge! 🤓
Let's just say Financial Technology didn't exactly sound like the most appealing topic to me. Before my interview, I browsed through YouTrip's Support page and tried to understand the complicated process on how card transactions work. 🤯 This was my attempt to try to better understand the product and the industry better.
Only after joining YouTrip did I realise how fast the fintech sector is growing. Interests can be cultivated, and it's true! I now have a (slightly) better understanding of the industry and I'm more inclined to it as well.
3. Fitting into the company culture
A preference for company culture differs for everyone, and it depends on your working style and personality.
YouTrip is young, loud, and crazy. I love it! 😂 The company culture is very open, and no one is afraid to speak their mind or give feedback. We have weekly catch-ups across the whole company and in our own departments, to ensure that everyone is up to date with the events of that week.
The people at YouTrip are patient, kind, and always willing to teach or help guide someone along. But don't take them for granted! The're also hard workers who are really passionate about the product and take pride in their work.
We also have monthly company activities: Sketchers Sundown Festival in April, BounceFit in May, company dinner and bowling in June to celebrate our record-breaking pre-Series A funding. Even for interns, we have welcome and farewell meals (yes we're not forgotten!). Work hard, play harder, and add in a pop of purple! 🥳
4. Deciding between MNC, SME and Start-up
Everyone wants to work in an MNC. It looks better on your resume, it sounds better when you tell people where you're working. Nothing wrong with that! They probably have better employee benefits and their own set of systems as well. But a bigger company often means greater hierarchy and tend to be more rigid and traditional in their operations.
As a young start-up, YouTrip has less hierarchy, so it feels like a little family. We are more open to exploring different ways of doing things, which can be beneficial in this age where technology is transforming so rapidly. 📊
This choice is largely dependent on your job scope, role, interests, needs, and wants. With the internet, information is just a click away! Research on the organisation, the industry, and most importantly, job reviews.
5. Finding the learning opportunities
Don't go into an internship for the sole reason of having an internship on your resume. Think: What do you hope to gain from an internship and how can you make the most of your experience? 🤔
One key skill I wanted to learn was Search Engine Optimisation (SEO) and I was given the opportunity to do so. Here I am, at the end of my internship with 12 published articles. 😅
From writing travel guides that prepares you for your first solo trip in 10 steps to comparing the best travel insurance for you, I'm really glad I was able to maximise my learning opportunity.
How can I achieve my internship goals?
My advice: Try everything. If you don't know what you want, at least know what you don't want. That can be a starting point as well!
Another key takeaway is to be proactive and take initiative. You want to learn something? Ask! If no one is able to teach you immediately, learn it online easily because the world is your oyster. Want to feel like a part of the company? Make effort to socialise and include yourself. Be hungry enough to work for your goals!
In the past three months, I've learned so much, worked hard, and laughed even harder. It's honestly been such a pleasure to have been able to work with such a wonderful bunch of passionate individuals.
If anyone is considering an internship with YouTrip, my response is… GO FOR IT! I have no regrets, only fond memories. Thank you YouTrip. 💜
In other news, I can't unsee the colour purple, it screams branding to me. 😂
Read: Cheapest Travel Wifi Router Rental in Singapore
Read: Should I Stay in a Hostel for My Holiday?
Read: #YouTripPerks Community Giveaway: Cold Brew and Tote Bags
Read: How I Conquered 14 Countries in 4 Months on Exchange
Read: Essential Solo Travel Packing List and Tips
Enjoy a worldwide fees-less travel experience!