Are you a true globe trekker? Then you've surely tried to collect rare passport stamps from the most unusual and challenging destinations in the world. If not, here's your sign. From Easter Island to Bhutan and beyond, adventure and exploration await!
They say you're not a true globe trekker until you fill your passport with stamps from all around the world. But hey, instead of attempting to collect every single stamp the world has to offer, challenge yourself with the most difficult ones first! Here are 11 rare passport stamps around the world:
💜 Stay Up To Date:
– How To Capitalise On The Malaysian Ringgit Right Now
– How To Capitalise On The Japanese Yen Right Now
– 9 Affordable Accommodations In Seoul Under S$200/Night
1. Easter Island
Image Credits: Easter Island Travel
Although Easter Island is well-known among many (thanks to its famous and mysterious Easter Island Heads), it's not exactly the most accessible destination.
There's only one daily flight into the island, and you'd have to travel to Santiago, the capital of Chile, to board the six-hour flight. To obtain an Easter Island passport stamp, head over to the island's Rapa Nui Post Office and you'll be given one with the iconic Easter Island Heads (Moai statues) design!
11 Rare Passport Stamps You May Never Get: Find out more here
2. Machu Picchu
Image Credits: Live Like Its The Weekend
One of the new seven wonders of the world (and a UNESCO World Heritage Site), Machu Picchu is a fortress city built high up in the Andes mountains. You can attempt the classic Inca Trail Hike which takes up to four or five days, among a few other alternate routes. Or, just take a train and bus to Machu Picchu directly. Once here, you'll find the passport-stamping station to the left of the entrance.
❗️Note that you'll only have until 5 PM to get your passport stamped!
11 Rare Passport Stamps You May Never Get: Find out more here
3. Bhutan
Image Credits: Tibet Travel
Not only is this magical kingdom known for its spectacular monasteries and extraordinary landscapes, but Bhutan also has one of the most dangerous airports in the world.
Nestled in the Himalayan Mountains, pilots must manoeuvre the plane through narrow valleys and rely on visual landings. No wonder only a selected few pilots are authorised to land here! You'll receive Bhutan's passport stamp as you pass through immigration at the airport.
11 Rare Passport Stamps You May Never Get: Find out more here
4. Chichijima
Image Credits: Lee Abbamonte
Chichijima is the largest of the Ogasawara Islands in Japan. The mountainous island is known for its lush forests and pearly beaches so it's no wonder travellers brave the 24-hour ferry from Tokyo to get here.
The ferry departs once every six days, and once every three days during the peak season. If that's not restrictive enough, the ferries are subjected to weather conditions as well. You wouldn't want to be caught in the rough seas during a typhoon! After spending 24 hours at sea, it's no doubt that this is definitely one passport stamp you can brag about.
11 Rare Passport Stamps You May Never Get: Find out more here
5. North Korea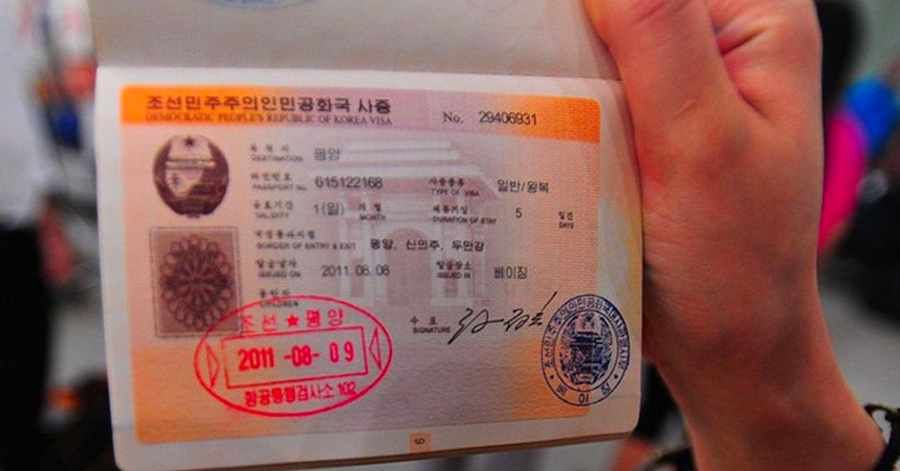 Image Credits: Pinterest
Arguably the most reclusive country in the world, it has been said that when visiting North Korea, it feels like you're travelling back in time to the 1950s. Though tourism is tightly controlled by its government, travellers can still purchase guided tour packages and experience the quasi-communist state under the watchful eyes of the tour staff. While in North Korea, you should remain vigilant and not commit any offences as tourists are not spared from its harsh laws.
11 Rare Passport Stamps You May Never Get: Find out more here
6. Llanfairpwllgwyngyllgogerychwyrndrobwllllantysiliogogogoch
Image Credits: Atlas & Boots
Nope, my cat didn't walk across the keyboard! The name of this place in Wales is so long that it might not even appear fully on your mobile screen.
Llanfairpwllgwyngyllgogerychwyrndrobwllllantysiliogogogoch, Llanfairpwllgwyngyll or Llanfair Pwllgwyngyll for short (or as short as it can get), is the name of a small quiet Welsh town. Though not difficult to get to (and supposedly not difficult to pronounce — watch this weatherman nail this super long name), many travellers pass through this town and get their passport stamped with the town's full name at James Pringle Weavers shop.
11 Rare Passport Stamps You May Never Get: Find out more here
7. Antarctica
Image Credits: Travel + Leisure
There's no official passport stamps in Antarctica because this freezing Southernmost continent is managed by over 50 countries under the Antarctic Treaty System. However, you can still get souvenir passport stamps when you visit research stations and museums. You definitely deserve a passport stamp for your bravery in this harsh sub-zero climate!
11 Rare Passport Stamps You May Never Get: Find out more here
8. Tristan da Cunha
Image Credits: Pinterest
How about visiting the most remote island in the world? Tristan da Cunha is a group of volcanic islands in the South Atlantic Ocean and the boat ride takes between five to ten days from Cape Town, South Africa. Psst, that 24-hour ferry to Chichijima doesn't seem too bad now, does it? This is truly one of the hardest passport stamps to get in the world.
11 Rare Passport Stamps You May Never Get: Find out more here
9. One Foot Island (Aitutaki)
Image Credits: The Asian on Aitutaki
One Foot Island is one of the most popular islands within the Cook Islands. The white powdery sand and pristine waters attract many tourists annually and have one of the most sought-after passport stamps. Reason? One Foot Island's passport stamp is really in a shape of a foot! Adorable.
11 Rare Passport Stamps You May Never Get: Find out more here
10. Ushuaia
Image Credits: Atlas & Boots
Nicknamed the "End of the World", Ushuaia is an Argentinian city that sits at the Southernmost tip of South America. Hence it's also known as the "Southernmost City in the World".
With a population of 60,000, the city remains a popular gateway to Antarctica due to its strategic geography. Getting a passport stamp at the "End of the World" is certainly another level of bragging rights, don't you think?
11 Rare Passport Stamps You May Never Get: Find out more here
11. The Marshall Islands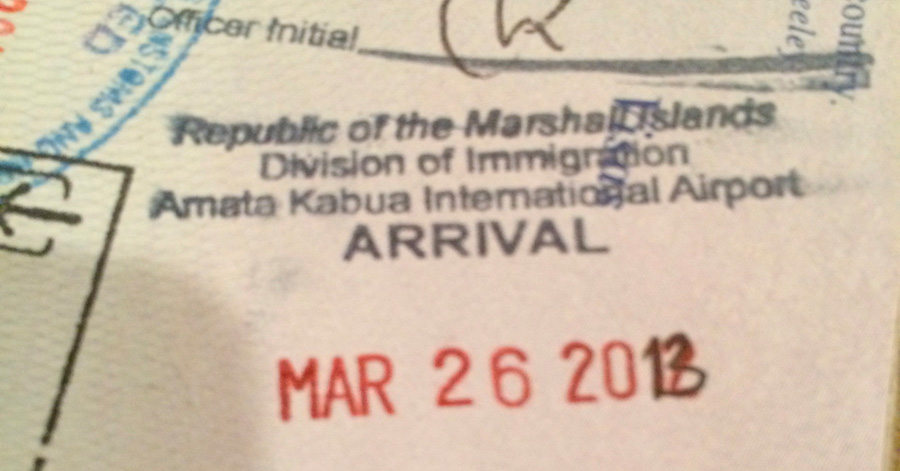 Image Credits: Lee Abbamonte
Situated between Hawaii and the Philippines, The Marshall Islands are a popular diving site for travellers looking to admire shipwrecks. Due to climate change over the last decades, The Marshall Islands are now at immediate risk of sinking below sea level.
Even though the government are working towards countermeasures such as fortifying shorelines, the risk of The Marshall Islands disappearing into the sea remains very real. With an undecided fate, globe trekkers should collect the stamp its stamp in their passports soon.
11 Rare Passport Stamps You May Never Get: Find out more here
Can You Collect Them All?
From Antarctica to Chichijima, step right up into your new adventure! And maybe even start your debut as a rare stamp collector. Regardless of where you go next, don't forget to make use of your YouTrip Card to cash in on those sweet wholesale exchange rates!
So if you're looking for a go-to travel card, sign up for your complimentary YouTrip card today with promo code <YTBLOG5> and get FREE S$5 in your account! Then, head over to our YouTrip Perks page for exclusive offers and promotions — we promise you won't regret it. For more great tips and articles like this, join our Telegram (@YouTripSG) and subscribe to our free weekly newsletter here or down below.
And while you're at it, why not join the conversation with thousands of #YouTroopers in our very own Community Telegram Group @YouTripSquad? Get tips and tricks to everything YouTrip including exclusive invites to exciting events and experiences, & be part of the #YouTripSquad!
Happy travels! 💜
Related Articles
Here's How I Experienced Nyepi — Bali's Day Of Silence
YouTrip's Guide To Solo Tripping In Berlin 2023
Where You Should Travel To In 2023 Based On Your Star Sign