We put together a guide on the best ways to farm and use Primogems, a premium in-game currency in Genshin Impact. Find out how to get more Primogems!
Genshin Impact, a free-to-play open-world game by miHoYo was termed "2020's biggest blockbuster". Genshin Impact's premium currency is called Primogems, which supports many features of the game, including:
Refilling Resin (Stamina)
Making Wishes (Gacha system to unlock 5 and 4-star characters and weapons)
Primogems aren't too difficult to come by, but you do have to spend a considerable amount of time and effort to gather them – unless you use real dollars to purchase a mountain of gems.
Ultimate Genshin Impact Guide:
#1: Genesis Crystals: How to Get Cheaper Crystals in USD
#2: Genshin Impact: Guide to Farming Primogems
Whether you're a free-to-play (F2P) or a pay to win (P2W) player, here are some methods to gather Primogems:
1. Battle Pass – Using Intertwined or Acquaint Fates
The Battle Pass is a feature that you'll unlock at Adventure Rank 20, and it comes with a whole bunch of rewards. It's a separate levelling system that requires you to complete several quests in exchange for different rewards. Compared to the other events in the game, it's relatively easy to advance in this system by going about your normal gameplay.
There are two different types of Battle Passes available: Sojourner's Battle Pass and the Gnostic Hymn Battle Pass.
The Sojourner's Battle Pass is the free version of the two, giving you access to essential items such as Mora (main in-game currency) and Hero's Wit (experience boost items). Additionally, you'll be rewarded with an Acquaint Fate for every 10 levels unlocked.
On the other hand, the Gnostic Hymn Battle Pass is a paid version of the Battle Pass. For the price of SGD$14.98, you'll get more premium rewards and materials that are necessary to level up your characters' skills. At Battle Pass Level 30, you get access to a Bounty. This allows you to pick a 4-star weapon of your choice. For this version of the battle pass, you'll be rewarded with Intertwined Fates for every 10 levels unlocked.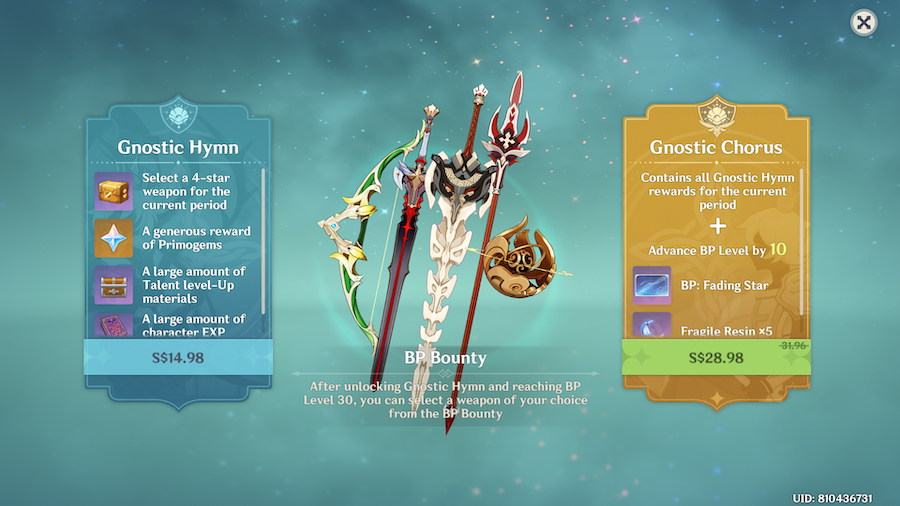 There is also a variant of the Gnostic Hymn Battle Pass called the Gnostic Chorus, which is priced at SGD$29.98. This pass allows you to start from Battle Pass Level 10 immediately. For those who already own the Battle Pass, you get to gain an additional 10 levels from your current level.
In summary, Battle Pass grants you a huge amount of Primogems. It also rewards you with Acquaint and Intertwined Fates, which allows you to make Wishes without spending your scarce pool of Primogems.
2. Blessings of the Welkin Moon
"Blessings of the Welkin Moon" is a monthly subscription that gifts you 300 Genesis Crystals up front, and 90 Primogems/day for the next 30 days. Genesis Crystals can be immediately exchanged to Primogems on a 1:1 ratio, which works out brilliantly!
We did some quick math – for just SGD$6.98, you'll be getting up to 300 Genesis Crystals and 2,700 Primogems over a 30-day period! You will have to log in every day to claim your subscribed Primogems, or else they will be forfeited.
3. Daily Commissions
Daily commissions are simple tasks that can be completed as you go about your regular gameplay. When you complete all 4 daily commissions, you receive an instant sum of Primogems. Easy peasy.
4. Exploration
While exploring the Genshin world, you'll come across waypoints and treasure chests. Waypoints are Genshin Impact's teleportation points, which allow you to travel to specific parts of the map immediately. Unlocking waypoints and opening treasure chests give you Primogems.
You might also come across several side quests, which will also grant you these precious commodities. Don't miss out on completing them!
5. Spiral Abyss
Spiral Abyss is a dungeon-style feature of the game, where you attempt to clear as many floors of monsters as you possibly can in one run. At every floor, you also get special character buffs to help you along the way.
The Spiral Abyss is divided into 12 floors, with each floor containing 3 chambers. Each chamber has 3 challenges of increasing difficulty. For each challenge completed, you'll be rewarded with an Abyssal Star and other premium rewards. Entering the next floor requires you to have earned at least 6 Abyssal Stars from your previous floor.
With all the Abyssal Stars earned, you can also trade them for Moras and the all -too-precious Primogems!
6. Main Story Quests
Completing main story quests not only gives you a huge amount of experience points and other amazing items, but it often awards you with a huge pile of Primogems. Talk about killing two birds with one stone!
7. Buying Genesis Crystals
You could purchase bundles of Genesis Crystals from the shop, ranging from 60 Genesis Crystals (S$1.48) to 6,480 Genesis Crystals (S$148.97).
First-time buyers also get twice the bonus for any Genesis Crystals package bought.
Genesis Crystals can be exchanged for Primogems (1 Genesis Crystal = 1 Primogem). Check out our guide to buying cheaper Genesis Crystals!
So… What Should I Spend My Primogems On?
Character & Weapon Upgrades
You can spend on refilling your resin, which is your in-game stamina, to get more character and weapon upgrade materials. This is increasingly important as you progress through the game.

Obtaining Promotional Characters Through Genshin Impact's Gacha System (Wishes)
Of course, you can and most definitely should spend your Primogems on making Wishes. Not only does it grant you the chance of getting a 5-star character, but it also gifts amazing 5-star weapons.

Pro tip: Always make 10 wishes at the same time for a higher chance of getting 4-5 star items.
Masterless Starglitter & Masterless Stardust
When making wishes, you often get duplicate items or characters. Thankfully, the game has a way of rewarding you despite giving you a copy of what you already have. When you find yourself in that situation,  you will get both Masterless Starglitter and the Masterless Stardust.
They can be used to purchase more Acquaint or Intertwined Fate in the shop.
Still Not Enough Primogems? Get More Primogems For Cheaper With YouTrip.
If you're gunning for the best characters and weapons in Genshin Impact, we found this hack that gets you cheaper Genesis Crystals. If you're an avid gamer, remember to hop onto YouTrip Gaming on Discord to join fellow gamers for more Genshin Impact gameplay discussions!
If you still haven't gotten your free YouTrip card yet, use promo code <BLOG5> to sign up and receive a free S$5 in your account. 😎
For more great tips and guides like this, join our Telegram (@YouTripSG) and subscribe to our free weekly newsletter here or down below!
Related Articles
Genesis Crystals: How to Get Cheaper Crystals in USD
Cheaper With YouTrip: 7 Digital Subscriptions & Games