From bittersweet to rich and creamy, there's a perfect durian for every palate. Here are the different types of durian you can find in Singapore — and a quick guide on how to pick the best ones.
Durian season is once again upon us! And you know what that means — nights of cracking open those thorny shells and devouring the bright yellow flesh of the king of fruits. Malaysia is one of the most popular durian exporters on earth, thanks to its well-cultivated and large variety of durians (approximately a hundred kinds). Fortunately, these days, you no longer have to travel over the causeway (but you could) or to other parts of Southeast Asia to get a hold of the tastiest durians. You can get 'em right here in sunny Singapore!
However, with so many kinds of durians to choose from, how do you know which ones to go for and which ones are the freshest? Well, that's where we come in — here's our ultimate guide to the 12 popular types of durians from Malaysia, and tips on picking the freshest, ripest king of fruits!
🍈 In This Durian Guide:
– Durian Season 2022: When Is It?
– Types of Durian: What's Your Flavour?
– How To Pick The Best Durian

🍈 More Durian Content:
– Durian Delivery Services Singapore: Which is the Cheapest?
– 9 Best Durian Desserts That Are Decadent Enough To Satisfy Your Cravings 2022
– Where To Get Your Durians in Johor Bahru 2022
🍈 Durian Season 2022: When Is It?
According to the experts over at Durian Delivery, durian season 2022 officially begins today, 15 June 2022. However, true peak season will emerge in July and end in September — so now is the perfect time to study up for it!
| | |
| --- | --- |
| | Durian Availability |
| January | Medium |
| February | Medium |
| March | High |
| April | Medium |
| May | Medium |
| June | Medium |
| July | High |
| August | Very High |
| September | High |
| October | Low |
| November | High |
| December | Very High |
🍈 Types of Durian: What's Your Flavour?
| | | | |
| --- | --- | --- | --- |
| Type | Taste | Source | Rarity |
| D101 | Mildly sweet, buttery | Johor | Common |
| D13 | Fragrant, sweet, sticky | Johor | Common |
| Tekka | Sweet, floral | Pahang | Rare |
| D24 Sultan | Bittersweet, creamy | Pahang | Common |
| Golden Phoenix | Sharp, bitter | Johor | Uncommon |
| D1 | Mildly sweet | Johor | Common |
| Mao Shan Wang | Bitter, creamy, sticky | Pahang | Common |
| Black Pearl | Slightly bitter, creamy | Johor | Rare |
| Black Thorn | Intense, bitter | Penang | Very Rare |
| D17 | Fairly bitter, soft | Johor | Uncommon |
| Red Prawn | Sweet | Penang | Common |
| Hor Lor | Mildly sweet | Penang | Uncommon |
1. D101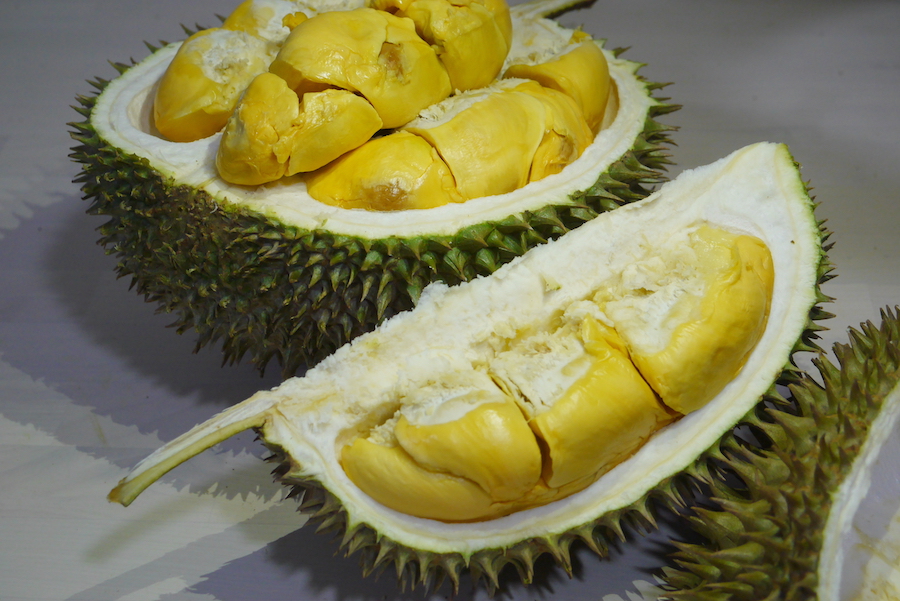 Flavour profile: Mildly sweet and buttery with slightly sour notes
Great for: Durian lovers and children who prefer indulging in the sweeter side of things
2. D13 (aka 'Kampung' Breed)
Flavour profile: Sweet and fragrant with bright orange sticky flesh
Great for: Beginners who wish to enjoy the durian without the usual strong pungent flavours
3. Tekka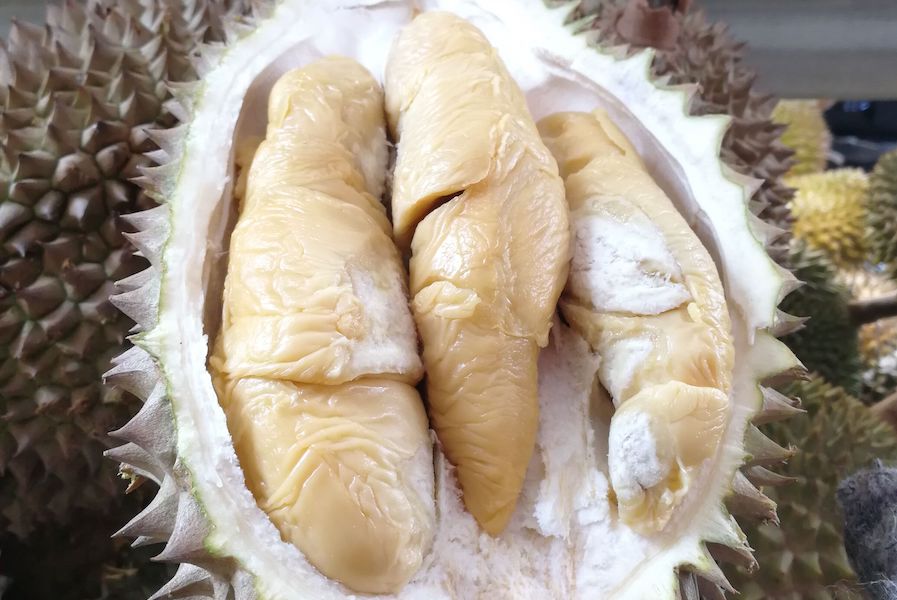 Flavour profile: Rare breed of durian, with complex layers of sweet, floral and bitter notes
Great for: True durian connoisseurs who are willing to look beneath its aesthetically unappealing pale yellow flesh, and irregularly shaped seeds — they will be rewarded!
4. D24 Sultan
Flavour profile: Well-balanced flavours of sweet and bitter, D24 Sultan is smooth and creamy with hints of alcoholic notes
Good for: Taking to parties because it's hard to go wrong with this crowd favourite
5. Golden Phoenix
Flavour profile: Sharp and bitter, with pale, watery yellow flesh. If durian's its name, pungency is its game
Good for: Those who don't have a sweet tooth. Just note that this durian is definitely more of an acquired taste — so if you're new to durians, you might want to go easy on this one!
6. D1
Image credits: Alan Lim / Her World
Flavour profile: Milky and sweet, with a slight crunch to the flesh — don't worry it slips off the seeds with ease
Good for: Those just starting out on their durian journey
7. Mao Shan Wang
Flavour profile: Bittersweet and rich with a custardy texture that often lands itself in delicacies like ice cream, pastries, and even coffee
Good for: Royalty and/or anyone who treats their tastebuds like one — after all, Mao Shan Wang literally translates to Cat Mountain King
8. Black Pearl
Flavour profile: Slightly bitter yet milky, the Black Pearl is characterized by its small, pearl-like seeds and petite exterior husk
Good for: A rarity in its own right, Black Pearl is a milder variant of durian suitable for durian parties because of its non-cloying tendencies
9. Black Thorn
Image credits: Year of The Durian
Flavour profile: Extremely rare, the Black Thorn is Intense and bitter with custardy orange-red flesh
Good for: Fans of the Mao Shan Wang, looking to ascent up the ladder of higher-grade durians
10. D17
Image credits: Year of The Durian
Flavour profile: Although not overwhelming, the D17 leans more towards a bitter aftertaste. It has soft and smooth pale flesh
Good for: Those who prefer milder flavours that still retains its aroma
11. Red Prawn
Flavour profile: Dense, creamy and sweet with a tinge of bitterness, the Red Prawn durian stands out from the rest of the pack with its unique bright orange flesh
Good for: Those looking for something sweet, but with an edge
12. Hor Lor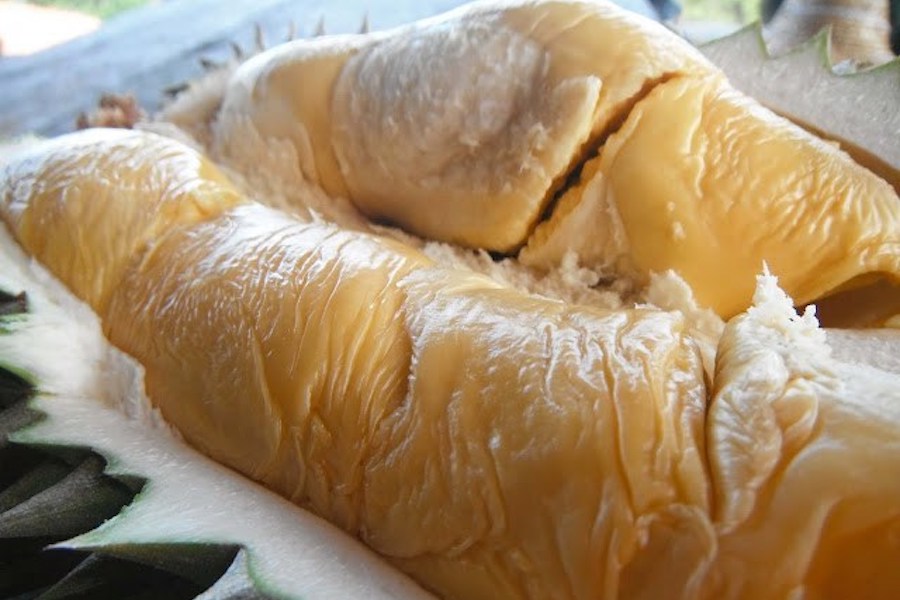 Image credits: Year of The Durian
Flavour profile: An uncommon find with a perculiar elongated shape (Hor Lor means gourd in the Hokkien dialect), Hor Lor durians rock ivory-coloured flesh and mild flavours with a hint of sweetness
Good for: People who prefer less overwhelming flavours — this option is very palatable
🍈 How To Pick The Best Durian
Now that you've learnt how to tell the different types of durians apart, it's time to get skilled up on picking the crème de la crème when shopping for the ultimate durian feast!
#1: How to Check Durians For Freshness?
According to 99 Old Trees, you should first check for dryness around the stem or any large cracks (hairline cracks are normal!) — these are indicators that the durian is old
TLDR; If a durian's stem is dry and there are large cracks in its husks — you should pick another one.
#2: How to Check Durians For Ripeness?
When durians are ripe, their seed gets loosened from its shell — this creates a knocking sound. Another factor to note is the weight of the durian.
TLDR; If a durian is ripe, there will be a knocking sound when you shake it. A ripe durian will always be lighter than an unripe one.
Pick The Best Durians With YouTrip!
If tasting these delicious durians locally aren't enough to satisfy your cravings and you decide to embark on a regional quest to savour them right at their source — don't forget to bring your YouTrip card along to utilise YouTrip's Wholesale Exchange Rates for favourable currency exchange rates!
Not on YouTrip yet? Sign up now and be sure to check out our YouTrip Perks page for exclusive offers and promotions too! For more great tips and articles like this, join our Telegram(@YouTripSG) and subscribe to our free weekly newsletter here or down below!
And while you're at it, why not join the conversation with thousands of #YouTroopers in our very own Community Telegram Group @YouTripSquad? Get tips and tricks to everything YouTrip including exclusive invites to exciting events and experiences, & be part of the #YouTripSquad! 💜
Related Articles:
Durian Delivery Services Singapore: Which is the Cheapest?
9 Best Durian Desserts That Are Decadent Enough To Satisfy Your Cravings
Singapore Best Food Delivery Services: Deliveroo, GrabFood, Foodpanda & more — Which is the cheapest?