Discover the best of Taiwan in 7 Days: Explore Taipei's night markets, marvel at Alishan, visit temples & more with this fun-filled itinerary!
The March holidays are here! Have you freed up your calendar to travel yet? If you're heading to Taiwan, we got you covered! Taiwan is a beautiful and fascinating country that offers a unique but balanced blend of traditional and modern culture. From the bustling capital city of Taipei, the charming old streets of Jiufen, the vibrant cultural hub of Taichung, and the scenic Alishan mountain range, to the tropical paradise of Kenting National Park, discover the gems of Taiwan in just one week! Moreover, it'll be spring in Taiwan where the weather is cool and refreshing, a perfect getaway from Singapore. Here is a suggested 7-day itinerary that will allow you to experience the best that the country has to offer.
💜 Stay Up To Date:
– The Ultimate 7D6N Hong Kong Itinerary 2023
– Make The Most Of Your Touch 'n Go eWallet In Malaysia 2023
– Causeway Travel And The Best Times To Cross It 2023
Pre-Trip Essentials:
SIM Card: S$20.75 for 7 days
The Ultimate 7-Day Taiwan Itinerary 2023: Remember to use YouTrip perks to get up to 5% cashback from Klook
Booking Your Accommodations In Taiwan
You can check out these sites, Agoda, Booking.com, Trip.com, and Expedia to find the best deals that fit your budget. Don't forget to get that juicy cashback of up to 10% via YouTrip perks when you make a flight or accommodation booking.
The Ultimate 7-Day Taiwan Itinerary 2023: Not sure which platform to use? Protip: Read more on the comparison between the different booking sites
Day 1 & 2: Taipei And New Taipei City
Image Credits: Tatler Asia
Most travellers will likely arrive at Taoyuan International Airport. From there, you can take a quick high-speed rail towards the city of Taiwan. Upon checking into your hotel, you're ready to start exploring the city! From towering skyscrapers to centuries-old temples, day or nigh, there is something for everyone in this bustling metropolis.
Unmissable Attractions In Taipei
Image credits: PlaceTech
| | |
| --- | --- |
| Taipei Attractions | |
| Taipei 101 | Once the tallest building in the world, visit to enjoy panoramic views of the city and learn about earthquake prevention. |
| National Palace Museum (國立故宮博物院) | This large museum houses one of the largest collections of Chinese art and artefacts in the world. It can take you multiple hours just to finish perusing the entire place. |
| Elephant Mountain (象山 Xiangshan) | Also known as Nangang District Hiking Trail and Xiangshan, this trail is good for a short steep climb and a nice view of the city. It takes less than 30 mins to reach the scenic point. |
| Longshan Temple in Wanhua (龍山寺) | Built in 1738 by settlers from Fujian, this is one of Taipei's oldest and most famous temples. Wanhua is also originally known as Manka or Mengjia |
| Lin An Tai Historical House and Museum (林安泰古厝) | One of the oldest traditional houses in Taipei, this 200-year-old historical site is a great way to discover what life was like back then. The architecture is Fujianese-style with not only aesthetic purposes but as well as defence, cooling and fengshui purposes. It's a short walk from the Yuanshan MRT Station. |
The Ultimate 7-Day Taiwan Itinerary 2023: For more on to do in Taipei click here
Night Markets In Taipei To Visit
Image credits: CommonWealth Magazine on Medium
| | |
| --- | --- |
| Taipei Night Markets | Michelin Guide Bib Gourmand Recommendations |
| Shilin Night Market | 3 bib gourmand recommendations |
| Raohe Night Market | 4 bib gourmand recommendations |
| Linjiang Street Night Market (Tonghua Night Market) | 4 bib gourmand recommendations |
| Ningxia Night Market | 3 bib gourmand recommendations |
| Gonguan Night Market | 2 bib gourmand recommendations |
| Nanjichang Night Market | 4 bib gourmand recommendations |
| Huaxi Street Night Market | 1 bib gourmand recommendation |
| Yansan Night Market | 3 bib gourmand recommendations |
*The Ultimate 7-Day Taiwan Itinerary 2023: Michelin Guide Bib Gourmand awarded as of 2022
Places To Eat In Taipei
Image credits: Eater
| | |
| --- | --- |
| Recommended Spots | |
| Mume | A Taiwanese-Nordic fusion masterpiece that has been crowned Best Restaurant in Taiwan in 2019 & 2021, as well as Number 15 in Asia's 50 Best Restaurants in 2021 |
| Raw | By the same Andre Chiang behind Singapore's Restaurant Andre, Raw is Number 21 in Asia's 50 Best Restaurants of 2021. It follows 'Bistronomy' style cooking from France while highlighting local Taiwanese ingredients. |
| Fu Hang Dou Jiang (阜杭豆漿) | Get traditional Taiwanese breakfast like soy milk and egg pancakes here. Beware of the queue though! |
| Addiction Aquatic Development (上引水產) | A gourmet seafood marketplace in Zhongshan District |
| Din Tai Fung (鼎泰豐) | Where you can find your favourite Xiao Long Baos |
| Yongkang Beef Noodle (永康牛肉麺館) | One of the best Taiwanese Beef Noodles in Taipei |
| Smart Fish | The fish head stew restaurant featured in Netflix's Street Food |
The Ultimate 7-Day Taiwan Itinerary 2023: For more info on where to eat in Taipei click here
Outside Of Taipei — New Taipei City:
East of Taipei is New Taipei City where other popular tourist destinations — Jiufen and Shifen — are located. These areas are usually day trips or side trips for those visiting Taipei. They might be sidelined destinations but do not underestimate their beauty.
Houtong Cat Village
Image credits: TaiwanToday
Houtong Cat Village should be on your must-go list if you're a cat lover. Situated just one stop after Ruifang station via Taiwan Railway Administration (TRA) on the Yilan line, Houtong is a convenient stopover when you're visiting Shifen or Jiufen.
After the mining boom in the 1990s, Houtong city's population began to dwindle to the hundreds. In 2008, an animal lover, Peggy Chien, stayed back together with a group of volunteers to help take care of the remaining cats.
As the name suggests, almost everything in the village is feline-themed. There are cat-themed cafes, souvenirs, and snacks. There are also scenic walks to see remnants of an old Japanese Shino shrine and Houtong Coal-Mine Ecological Park where you can discover what the village was like in its mining heydays.
The Ultimate 7-Day Taiwan Itinerary 2023: Find out more about Huotong Cat Village here
Shifen
Image credits: Expedia
Shifen is a charming old town famous for its lanterns and sky lantern festival. At Shifen Lao Jie, you can write your wishes on a lantern and release it into the sky along the train tracks and admire the scenic views.
Image credits: Taiwan.net
There is also a natural spectacle — Shifen Waterfalls, nicknamed "Taiwan's Niagara Falls" due to their similar cascade-type waterfall topography.
The Ultimate 7-Day Taiwan Itinerary 2023: For more information on Shifen Waterfalls click here
Jiufen
Image credits: Girl Eat World
Jiufen is the famed picturesque town, with iconic lantern-lit narrow alleyways that allegedly inspired Studio Ghibli's spirited away. In Shi Fen Lao Jie, other than traditional Taiwanese snacks like peanut rolls and tea eggs, you can also explore the many traditional teahouses for a wholesome and educational cultural experience.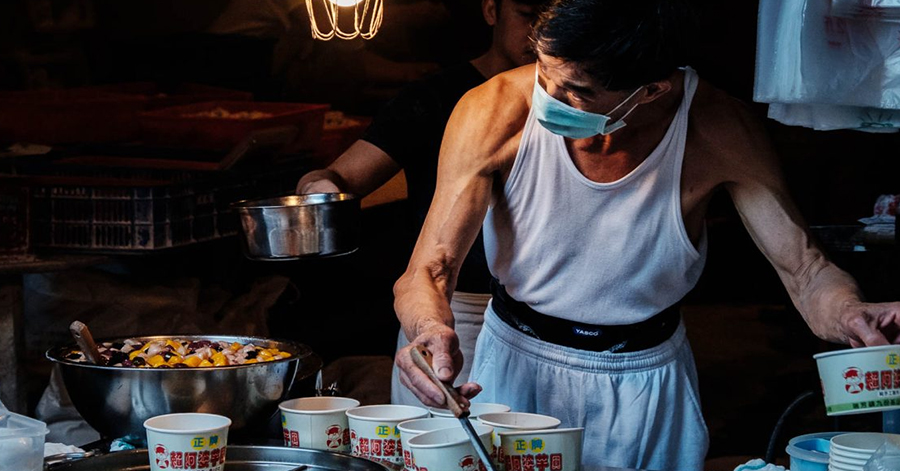 Image credits: Roamscapes
As Jiufen is a very popular tourist destination, it can get very crowded so plan your journey with this in mind. You might want to avoid hot weather or peak hours.
The Ultimate 7-Day Taiwan Itinerary 2023: Find out what else you can do in Jiufen here
Day 3: Taichung
Image credits: CK Travels
Take a train or bus to Taichung, the largest city in Taiwan. You can get to Taichung from Taipei by the High-Speed Rail (HSR) Train. Alternatively, if you'd prefer the scenic route, you can take a bus from Taipei Bus Station to Taichung Station.
As a city famed for its arts and culture, you can visit the National Taiwan Museum of Fine Arts for an intellectual and educational experience or just a quick photo stopover at the vibrant Rainbow Village. For dinner, try some famous Taichung specialities like sun cake, braised pork rice, and meatballs.
As much as time permits, you might not be able to see as much of Taichung as you would like because you will have to embark on a journey to Chiayi next!
Things To Do In Taichung
Image credits: Taiwan News
| | |
| --- | --- |
| Recommended Spots | |
| Rainbow Village (彩虹眷村) | The buildings were revived by a villager, Mr Huang Yong Fu (also known as Rainbow Grandpa), who painted them in a bid to save his village from being demolished. Just 10 mins away from Taichung HSR, a nice Instagrammable spot for photos. |
| National Taiwan Museum of Fine Arts (國立臺灣美術館) | The first and only national-grade fine arts museum in Taiwan. With major collections by Taiwanese artists, covering modern and contemporary Taiwanese arts. |
| National Museum of Natural Science (國立自然科學博物館) | Find exhibits on science and natural history like astronomy, space science, palaeontology, ecology, gems and minerals, Taiwanese Aborigines, and tropical plants. Yes, they have dinosaurs! |
| Gaomei Wetlands (高美溼地) | A mud flat with nice views and cute crabs |
| Audit Village / Shenji New Village (審計新村) | An old dormitory block once used by the Japanese, Audit Village is now a fascinating marketplace teeming with character. From indie brands, craft beers, artist studios, barber shops and cafes, it's everything alternative and tasteful. |
The Ultimate 7-Day Taiwan Itinerary 2023: For more on what else you can do in Taichung click here
Where To Eat At Taichung
Image Credits: Taichung Travel
Night-Markets:
Feng Jia Night Market
Yizhong Night Market
Dong Hai Night Market
Hanxi Night Market
Zhonghua Road Night Market

Taichung Second Market (台中第二市場店)

Numerous vendors here, one of the most famous being 王家菜頭粿糯米腸 which serves radish cake

Miyahara ( 宮原眼科 )
An old Japanese ophthalmology clinic converted into a confectionery. It has gorgeous interiors that are great for photos. Miyahara offers desserts like ice cream and waffles, and souvenir snacks like tea and cookies.

Fu Kuei Ting (富貴亭飲食店 )
With at least 80 years of history, Fu Kuei Ting is popular amongst locals. They are known for their smoked, Herbal Goose and Duck Soup. Reviews say that the medicinal fragrance is very light and acceptable.

Taichung Meatball
Also known as Taichung Bawan (台中肉圓), this is not your regular run-of-the-mill meatball. It is a deep-fried ball of meat covered in glutinous sticky dough topped with a sauce and coriander.

The Ultimate 7-Day Taiwan Itinerary 2023: Find out what other must-eats you can find in Taichung here
Day 4: Alishan at Chiayi
Image Credits: Veltra
After days in the city, hiking in Alishan can calm your bustling city soul.
From Taichung, you can get to Chiayi via the HSR the night before. Get ready to wake up early to take a morning train from Chiayi to Alishan. At Chiayi Railway Station (not the same as Chiayi HSR station — there is a shuttle bus from Chiayi THSR to Chiayi TRA), get tickets for the Alishan Forest Railway. The train ride takes about two hours and offers great views of the mountains and countryside.
Once you arrive at Fengqihu station, you can grab some lunch at the bento box restaurant before heading to the Forest Railway Museum. But you're not at Alishan yet. To get there, you need to take a shuttle bus part of Line A/B (Bus 7329/7322) located near the entrance to the Forest Railway Museum. You can buy a ticket when you board the bus. This bus will drop you off at the bus terminal of Alishan which is just outside the park.
Image Credits: bucketlistly
Upon reaching your stop, purchase an entrance ticket to Alishan National Recreational Forest (NT $200 per person). From there, you can explore the multiple trails like the Giant Trees Trail, where you get to see towering, ancient red cypress trees, and view the Three Generations Tree. There are also other sights like Sister Ponds, Alishan National Scenic Area, and Cihyun Temple — a Japanese-built Buddhist temple with a lookout point to enjoy the sea of clouds.
Have lunch at one of the local restaurants in the area and remember to try some tea as Alishan is famous for its mountain tea.
Image Credits: Taiwan Everything
Within the forest recreation area itself is another small railway network that operates in the park. It starts from Alishan Station at Alishan Tourist Village with returns. You can take one stop down to Shenmu Station to see remnants of the Sacred Tree. There are also other stops higher up like the Zhushan Station and Duigaoyue Station where you can have a better view of the park.
Image Credits: Alishan Year of Mountain Tourism
If you do not want to take the train, you can simply explore the area on foot which would take around four to five hours.
When you're done immersing yourself in the views, take the Alishan Forest Railway back to the Alishan Station and catch the train back to Chiayi.
The Ultimate 7-Day Taiwan Itinerary 2023: Find out more about Alishan here
Day 5: Tainan
Image credits: mcalp
From Chiayi, take the high-speed train to Tainan, the former capital and oldest city of Taiwan. The journey should be less than an hour, giving you ample time to explore. Visit the historic Anping Old Street, Confucius Temple, and Fort Zeelandia (later known as Anping Old Fort) — a Dutch fortress built in the 17th century. There are plenty of temples and historical buildings in Tainan so be sure to prioritise which you would like to visit. For dinner, sample some of Tainan's famous dishes like Danzai Noodles and Coffin Bread (棺材板).
When planning to check out Tainan's night markets, keep in mind that each market is only open on designated days of the week. A rule of thumb is "Da, Da, Wu, Hua, Da, Wu, Hua" (大大武花大武花) where each letter represents the market open on the position of the day of the week from Monday to Sunday.
Things To Do In Tainan
Image credits: Borders of Adventure
| | |
| --- | --- |
| Recommended Spots | |
| Tainan Confucius Temple (臺南孔子廟) | Also known as 全臺首學 First Academy of Taiwan, was built in 1666, the temple was the highest official institute of higher learning and culture in Taiwan in the era. |
| Chimei Museum (奇美博物館) | Prominently European-styled with a replica of the Fountain of Apollo from the Versailles, Chimei museum is an intriguing museum with a wide collection of Western art, musical instruments, weaponry, and natural history. |
| Chikan Tower (赤嵌樓) | Initially meant to be a fort for the Dutch but repurposed into a temple and eventually a museum. |
| Shennong Street 神農街 | Quaint streets with artistic shops |
| Hayashi Department Store | |
| Dongyue Temple(東嶽殿) | Temple that houses deities related to the underworld, like Yuedi or Yan Wang 閻王 and Dizang Wang 地藏王菩薩, locals come here to pray for the deceased and sometimes even communicate with them through spirit mediums. |
| Luerman Matsu Temple (鹿耳門天后宮) | |
| Official God of War Temple / Sacrificial Rites Martial Temple | The oldest and most impressive temple in Taiwan is dedicated to Guandi 關帝, also known as Guan Gong 關帝 or Guan Yu 關羽, the patron saint of soldiers. |
The Ultimate 7-Day Taiwan Itinerary 2023: Find out more about what else you can do in Tainan here
Where To Eat In Tainan
Image credits: CK Travels
Must-Eats In Tainan
NIght Markets:
Ta Tung Night Market( 大東夜市)
Wu Sheng Night Market (武聖夜市)
Garden Night Market (花園夜市)
Xiaobei Night Market (小北夜市)
Xin Yong Hua Night Market (新永華夜市)

Guo Hua Street Minced Pork Rice 國華街肉燥飯

Ah Juan Dumplings and Salted Porridge 阿娟肉粽/鹹粥

Lu Ji Du Tuo Yu Geng 呂記𩵚魠魚羹 (Lu's Spanish Mackerel Soup)

Yi Wei Pin Wha Guay 一味品碗粿 (Number 1 Rice Pudding)

Hong Zu Shi Danzi Noodles 洪祖師擔仔麵

Du Xiao Yue 度小月 (Du Hsiao Yueh Danzai Noodles)

The Ultimate 7-Day Taiwan Itinerary 2023: Find out where else you can eat in Tainan here
Day 6: Kenting National Park
Image credits: alexisjetsets
After days of city exploration, Kenting provides a tropical respite of sun, sand, and sea. There is no direct bus or train to Kenting from Tainan. Instead, you can take a HSR from Tainan to Kaohsiung's HSR Zuoying Station then a shuttle bus – Kenting Express.
Public transport is not exactly the most convenient in Kenting. Hence, hiring a driver or renting a car would be a good idea. Alternatively, you can also get around Kenting on scooters if you possess a motorcycle licence.
Things to do at Kenting
At Kenting National Park, there are forest areas to trek as well as beaches to relax.
Image Credits: alexisjetsets
| | |
| --- | --- |
| Recommended Spots | |
| Kenting Forest Recreational Area 墾丁國家公園 | Trek and explore caves, and view limestone walls and macaques. There are 17 scenic spots for you to visit including the Fairy Cave (仙洞) and Silver Dragon Cave (銀龍洞). |
| Eluanbi Lighthouse and Park | |
| Hengchun (恆春) | A national historical site built in the mid-to-late 1870s to strengthen the area's coastal defences against the Japanese |
| Beaches of Kenting | Kenting is known for its beachy coasts. There's South Bay, Kenting Beach (墾丁海水浴場), Xiaowan Beach (Little Bay Beach, 小灣海灘), Fongchueisha (風吹砂), and White Sand Bay Beach (墾丁白沙灣海灘) |
| Various water activities | Snorkelling, kayaking, paddleboarding, surfing |
| Kenting Night Market | |
The Ultimate 7-Day Taiwan Itinerary 2023: Find out more about Kenting National Park here
Day 7: Kenting National Park > Taoyuan Airport
Image Credits: Skytrax
Spend your last day in Taiwan soaking up whatever you have left on the agenda for Kenting National Park. Then pack and get ready to head back to Taoyuan Airport or if you have some time left, you can head back to Taipei to get some last-minute shopping done or explore the other places you have yet to go to. Remember to use your trusty YouTrip card for the best exchange rates!
This 7 days itinerary is by no means a complete coverage of the rich island of Taiwan. There are definitely more places to go, people to see and food to eat. But hopefully, this itinerary gives you a gist of what Taiwan has to offer from high-tech cities to rustic towns, folklore to arts & crafts and Michelin Star fine dining restaurants to street food beloved by generations.
Explore Taiwan To Your Heart's Content With This 7-Day Itinerary!
Now that you've got a 7-day Taiwan itinerary all planned out, you're all set for your next getaway out of town this March holidays! And while splurging away, remember to use your YouTrip card to cash in on our sweet wholesale exchange rates!
As Singapore's favourite multi-currency wallet, we aim to get those pesky fees out of the way and help you save on your travels. With the best foreign exchange rates, no longer will you have to deal with those long queues at money changers! So if you're looking for a go-to travel card, sign up for your complimentary YouTrip card today with <YTBLOG5> and get FREE S$5 in your account! Then, head over to our YouTrip Perks page for exclusive offers and promotions — we promise you won't regret it. For more great tips and articles like this, join our Telegram (@YouTripSG) and subscribe to our free weekly newsletter here or down below.  
And while you're at it, why not join the conversation with thousands of #YouTroopers in our very own Community Telegram Group @YouTripSquad? Get tips and tricks to everything YouTrip including exclusive invites to exciting events and experiences, & be part of the #YouTripSquad! 💜
Stay safe and happy travels!
Related Articles
Did You Know Taiwan's Giving 500,000 Tourists S$220 Incentives Each?
Unique Food In Taiwan To Try Your Hand (Or Mouth) At
Top 10 Things To Do In Taiwan That Aren't Totally Basic